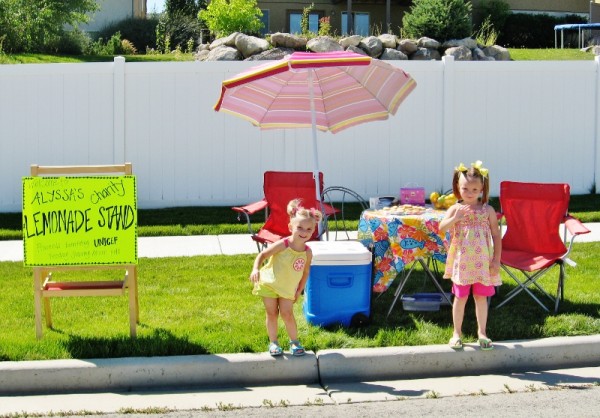 Mark your calendars for tomorrow. It's our 2nd annual EPIC Lemonade/Snicker doodle Stand!
It's time to make # 280 on our list a reality!
**We'll be out in front of Rose Crest park from about 10:30 a.m. to 1:00 p.m. depending on how long it takes for my kids to get grouchy about standing on the street.
We'll tempting cars to stop by being adorable and selling overpriced canned lemonade and the MOST delicious homemade snicker doodles!  Come early if you want cookies because last year we sold out fast!
How could anyone resist buying Lemonade from these cute little girls and with their suggestive selling techniques.
Last year we supported UNICEF after Alyssa was bothered by seeing a TODAY Show story on starving children in Africa.   We raised $87 and donated it all to UNICEF.
Since then, I believe we've received at least $87 worth of junk mail from UNICEF and various similar charities all addressed to Alyssa asking her for more money.
This year, we've decided to keep the money a little closer to home, supporting our own Operation Undies and the Centro de la Familia Migrant Headstart Preschool.
We hope to see everyone who stays in town at our Charity Lemonade Stand!   If you don't know Rose Crest Park, the address is…13850 South Rose Crest Road (5600 West) in Herriman.
If you're unable to make it out to buy Lemonade. You can still support our cause.  Patronize our new and gently used clothing drive September 29  in Daybreak on Soda Row. 
The nice folks at Kennecott Land have agreed to lend me some vacant retail space to host the clothing drive.  More details to come. It will be a party with FOOD and Prizes!
For the latest news on how YOU can help support this cause, be sure to LIKE The Vocal Sokol on Facebook so you don't miss an update.
And since we're talking about Facebook, if you don't mind, share this post with your friends. If the social share buttons don't appear at the bottom of this post on your screen, click on the title of the post and they should appear.  Thanks, thanks!
**The weather doesn't look great for Saturday, but we're hoping for the best.  In case of severe weather, we'll probably run our stand on Monday instead at the same times.  Check our Facebook status if you're not sure if we'll be out or not.
Related posts: