One of the best parts of living in our town is the bike trails that run all through and interconnect neighborhoods.
We've had a ball in the past walking and riding bikes all through town via these trails.  Only having one extremely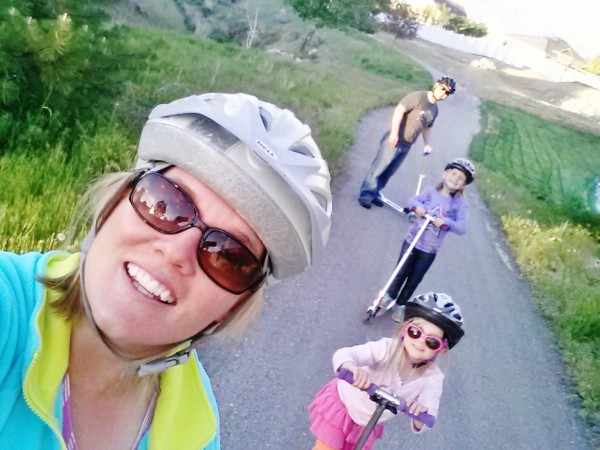 unfortunate experience. Details on that in a future post.
This year, we've discovered a great new family past time. Steve's birthday usually falls the week of Mother's Day.  I had a hankering (because of my obvious hints) that he was going to get me my very own razor scooter for Mother's Day!  So, I preemptively bought him one for his birthday so we'd all have one.
I had it in my mind that if our two kids and we both had scooters, that could make for some pretty awesome family fun.  And…I was right.
We've been hitting those bike trails most every evening.  We've got it all figured out.  We live in the foothills, so we drive down to the bottom part of town, drop off a car and drive back up the hill.
From there, we hop on our scooters and catch the trail system.  We ride all over town, including a ride past the scene of the crime (more details on that later) and down to the park where we left the car.
In all it takes us about 1 hour and 15 minutes.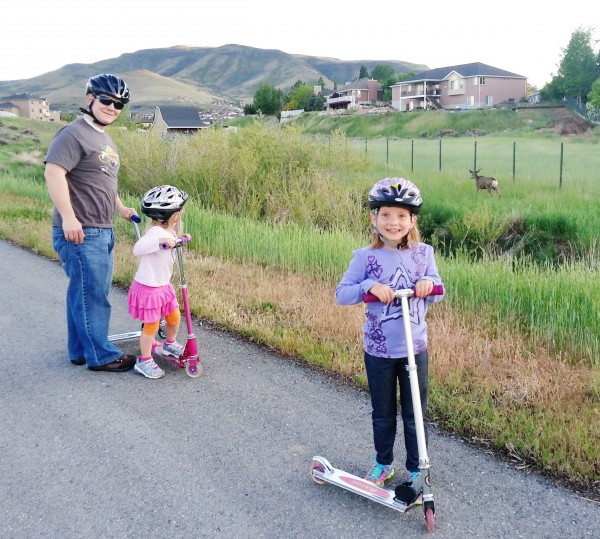 It's an hour filled with laughter, adventure, and wildlife sightings.  True, that most of the wild life consists of unusually large beetles creeping across the paved trail, but we also see some more majestic wildlife.  That is, if you count mangy white-tailed deer as "majestic."  It's exciting to see either way.
I highly recommend mom's and dad's out there get their own razor scooter.  I mean really, why are you letting your kids have ALL the fun?  Steve and I even went on a scooter tour on a date night.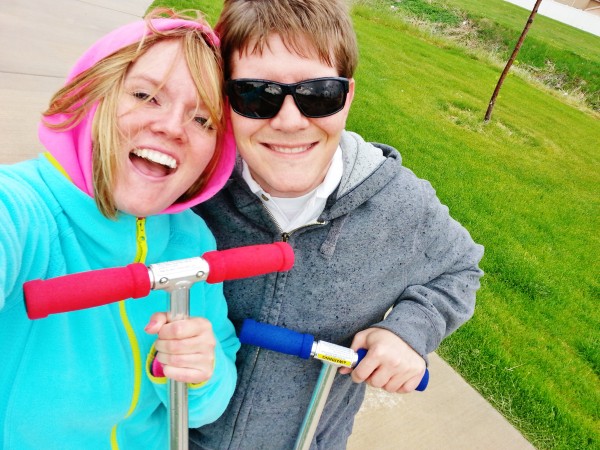 We got a lot of strange looks when people realized we weren't with any children, but we had fun all the same and then didn't feel guilty when we ate at In-n-Out Burger afterward.  You'll feel some serious burn when you get going on your scooter.
Here are some tips to help you avoid injury while riding razor scooters.
1. Don't just assume you can ride right over a bump in the side walk. Slow down or stop before you hit the bump.  Don't ask me how I know.
2. Take of your wedding ring if it has a precious stone in it.  The Razor scooter vibrates a lot and I'm always paranoid I'll lose my precious stone.
3. The breaks don't really work when the wheels are wet, so don't count on them slowing you down very fast.
4. Don't pick your scooter up off the ground unless you are holding onto the foot board.  I've bee hit in the shin or across the top of my foot one to many times.  Believe me, it's very painful.
5. Always wear good shoes, not sandals and NOT flip-flops when you ride. Bad things can happen, again, don't ask me how I know.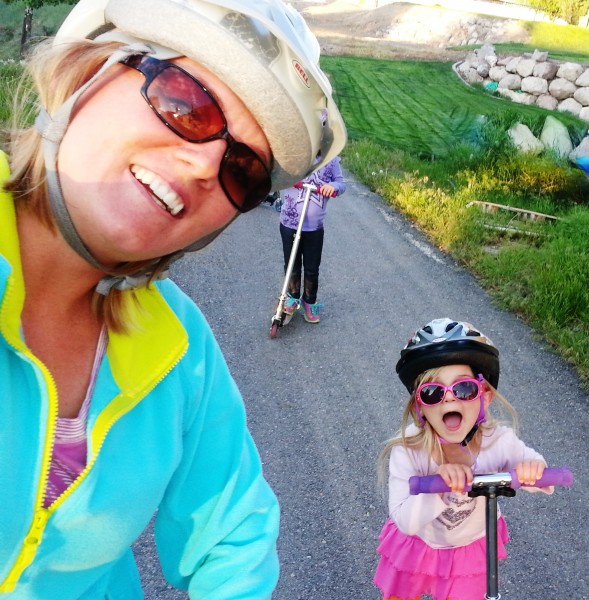 That's it.  Don't let my warnings scare you.  Go get your self a razor scooter, they only cost about $25.  Well worth the family amusements you'll get out of it. And…this totally counts for #273 on the list.
Related posts: