A trip to Italy was not what I was expecting when I made a stop in at Café Bella Rue located at SoDa Row in Daybreak, but that's what it felt like.
It would be easy to make a quick stop in, order yourself a sandwich, bag of chips and a Diet Coke and be on your way.  I imagine you'd be more than satisfied if that's what you did.  But…you'd be missing the best part of Cafe Bella Rue.
Robert Avery, the owner, was working and helped me work out what to order.  Not only for me but for my kids including THREE Chinese foreign exchange daughters.
I initially wanted to order my old standby Turkey Sandwich.  Robert pointed Steve and I to what he called his "sexier" sandwiches.  We ordered those since I was trying to fulfill #145 on the list.  He then asked us what to drink. I started to order a diet coke until he directed me to the Italian Sodas on the menu.
I'll just start by saying that Cafe Bella Rue had me at Italian Soda.  I'll be honest, hosting the exchange girls was more work than I anticipated and I was ready for a glass of red wine, but I'm a Mormon and I don't drink.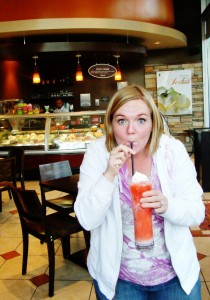 Somehow this Italian Soda made me feel better. I'd come here again, just for a nice relaxing drink while I just thought about it all. I expect it would make me feel better.
When I got my pomegranate Italian Soda I started to understand the full potential of this Cafe.  If you let it, it will take you to Europe where meals are taken slowly and thoroughly enjoyed.
If you're doing it right you'll come here for an experience.  You'll order an Italian soda or another specialty drink and enjoy it while chatting on the Italian Leather sofas with your friends if you have any.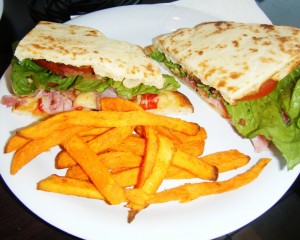 After that, you'll think about ordering your entree.  I had the sexy Ferrari sandwich Robert suggested.  He commented to me that people drive from across the valley to eat this sandwich.
It was incredibly delicious!  We paired the sandwich with sweet potato fries which were the best I've ever had.  They were delicious and tasted like they were grown in the earth unlike the other highly processed sweet potato fries I've had.
After dinner we sure helped ourselves to some of the 36 flavors of Gelato.  I had Coconut and Pineapple. Steve had the Lemon. He told me how it reminded him of being in Sorrento, Italy, the city of lemons.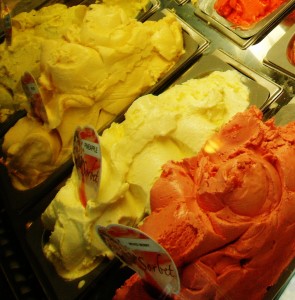 I haven't yet been to Europe, but I almost felt like I was there listening to his stories and enjoying the Euro food and atmosphere.
I might have let myself slip into another dimension except the fact that I had a slew of kids with me including my Chinese exchange students.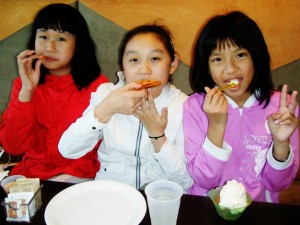 The kids menu more than adequately took c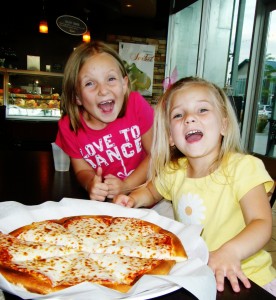 are of them.  They LOVED the pizza and the sweet potato fries and Gelato.
But really, I'd get a babysitter for this one. Don't waste such a lovely atmosphere taking your kids potty and settling sibling disputes. But…if you absolutely have no other choice, Cafe Bella Rue can more than accommodate the kids too.  I'll let the pictures do the talking on that one.
So…if you're looking for a great date night which includes a nice meal…Stop in at Cafe Bella Rue.  Tell them the Vocal Sokol sent you.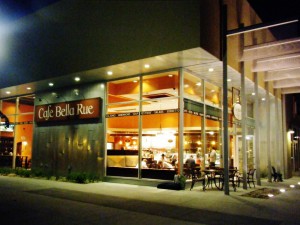 Full Disclosure: Robert invited me to sample his restaurant free of charge in exchange for this review.  He provided no direction with the content of this post. All the thoughts and opinions shared were of my own free will.
I just noticed this last weekend that Cafe Bella Rue has a Groupon.  If I've convinced you to try this place the Groupon will give you an incentive to splurge on the awesome menu items.
Related posts: