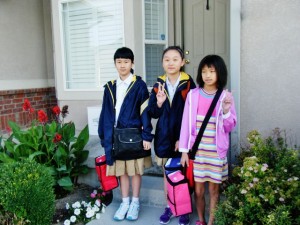 You can't imagine the things you would learn having three Chinese children living in your house for a week. They were the perfect way to illustrate #80 on the list.  It's a cultural lesson we'll always remember.  Here's the highlights so far…(it's not over yet)
Several months ago, My friend asked me if I might be interested in having some Chinese exchange girls come stay with our family for a week in July.  At the time I had just started reading the book Yes Man and I was empowered to say YES to as many things as I could. Plus, my daughter is starting a Chinese immersion program next year at our local elementary school and we thought it would be a perfect introduction.
We picked up our temporary children from the airport last Tuesday.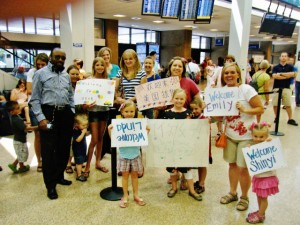 It was a rush of excitement when we saw the 26 Chinese tweens, three of which would be coming home with us, move through security.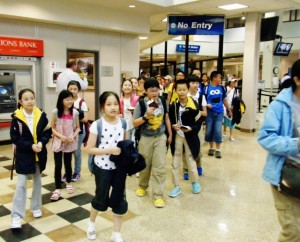 They looked a little shocked to be in the moment.
Here's my friend Brittany's boys.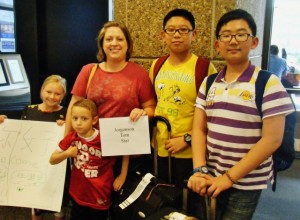 She took home "Tom" and "Star."
We found our very tired jet-lagged girls, loaded them up in our van and headed home.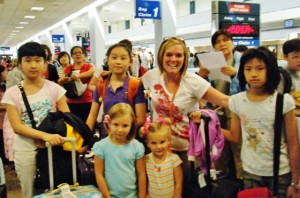 I tried to gauge how much English they spoke.  Two of them spoke very well.  "Linda" and "Emily" both 11-years-old from Shanghai, seemed to understand at least half of what I was saying as long as I spoke clearly, simply and slowly.  The third, 10-year-old Sinyiu from Taiwan, spoke and understood less than the others but still was able to communicate.
When we arrived home, they were obviously very excited!  They could hardly wait to get into my American house and see everything in it.  They opened every single door in the house wanting to see every corner, even the ones I hadn't cleaned for them.
They were also really excited to see my backyard swimming pool! Unfortunately, we have no backyard swimming pool.  You can imagine their frustration when I crushed the dream that every house in America had a pool.
Day one highlights included seeing the inside of the kitchen pantry.  As soon as they opened the door and saw our dreamy stash of Club Crackers, Quaker Oats and Cambell's Soup they took a step back with jaws hung open and immediately started to chatter rapidly in Chinese.  I guess in China they don't keep a pantry of food?  My stash is nothing spectacular.
Day two's highlights were eating at In-N-Out where I forced them to try fry sauce. They all shreiked when they saw me emptying a side of spread into a condiment cup.  They all told me in unison,…"It's for salad!"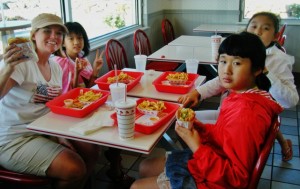 Despite their reservation, two of the three seemed to like it. The third so far has shown almost no interest in any American food except margarine.  She's been eating a grotesque amount of Country Crock.
We also took them swimming at our local rec center which was an amazing experience for them.  I guess they don't have pools in China and swimming is a very rare event.
We've noticed a large amount of cultural differences.
First, they DO NOT clean up after themselves.  Make a mess, walk away. They made themselves some Chinese Noodles at 10:30 the other night.  They trashed the kitchen and then went to bed.
Second, privacy.  They don't seem to need any.  We started locking doors after one of the girls walked into our master bedroom and bathroom looking for a toilet even though she passed two along the way.  Unfortunately my husband Steve wasn't quite ready for work yet and he had to direct her to the hall bathroom.
Some of the other families have reported their girls wandering through the house wearing only underwear.  One family reported that after our swimming night their 12-year-old boys stripped off their Speedo swimsuits in the entry way of their home in front of the whole family including their 8-year-old daughter.  The whole family was treated to a Chinese show they never asked to see.
Honestly, this has been a little more work than I had anticipated, but communicating has been easier and more fun than I was expecting.  Completing #80 on the list has been an amazingly unique and fun experience.