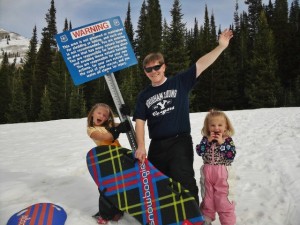 We had planned to do yard work today since it was supposed to be warm outside and we have a bunch of weeds growing in the flower beds.
I actually HAD been looking forward to it right up until the exact moment I had planned to start pulling up weeds. Then, I decided that yard work sounded incredibly boring and like a waste of a perfectly good Saturday afternoon.
So we decided to do anything else.  We ended up in the canyon to see what was happening at one of our favorite spots, Donut Falls.
We didn't really know what we'd find once we got there.  We were dressed in our warm weather clothing, but brought everything we thought we might want including sleds, snowshoes, snow pants, boots, water bottles, ski gloves etc.  We weren't sure if we'd be walking in the woods or snowshoeing, sledding, or trudging through mud.
With our gear packed up, we were delighted to be headed up the canyon and were delighted to find 8 foot snow banks to park next to. 
The kids immediately wanted to suit up and start an expedition.  It only took them a few minutes before they were both on top!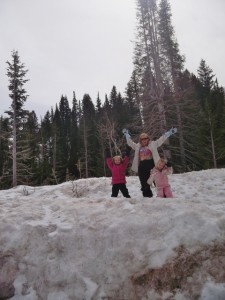 Then me.
We only walked 200 yards or so when we found some pretty decent sledding.  Since we had the sleds we decided to make a go of it.
There were several good hills to choose from.  Some steeper than others.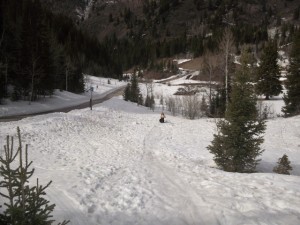 We found one that was fun, but it wasn't long enough or steep enough to hold Adventure Girl's interest for more than five minutes.
So we moved on. Looking for a bigger better hill.  Since it was a warm day we found ourselves falling through the snow a lot.  Just when you thought you were sure footed boom! You'd sink down into the snow to your knees. Or further. After a while we got smart and transported ourselves via sled whenever possible.
We slid down this gentle slope and headed toward the hill on the other side of the meadow.
We were all ROASTING like toasted CHEEZERS in our coats, so after traversing over to our new hill we shed some layers. Shirts and snow pants turned out to be just fine.
This hill was perfect for us.  Long and not extremely steep. We had an absolute BALL! We laughed and screamed as we made the most of our sleds against this hill.

You can see from this video that Adventure Girl approved.
Sunny was also a blast to have with us.  In the past she's been known to rain on the parade by incessant whining.  Not this time though, she was even brave enough to go it alone a time or two.  Steve got this cute video of her solo slide.

No need to go check if your tea kettle is whistling, that was just Sunny screaming.
At the end of all our runs I decided to read the sign that was clearly posted at the top of this hill.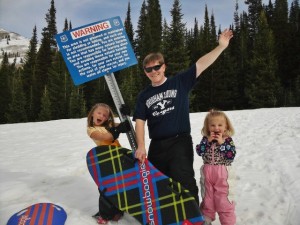 Oh well…Nothing makes you feel more alive than laughing in the face of danger!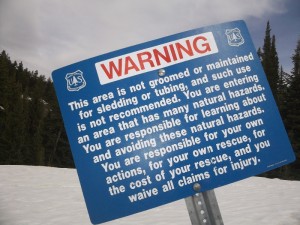 Oops.  Maybe next time we'll read the posted warnings first.
We trudged back through the snow and to the car to shed our snow clothes.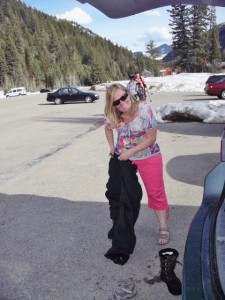 I'm not sure I've ever worn Capri pants under snow pants before.
The girls' boots turned out were terribly leaky.  Both their feet were soaking wet, wrinkled and FREEZING!  I put our gloves on their feet, which they thought was hilarious.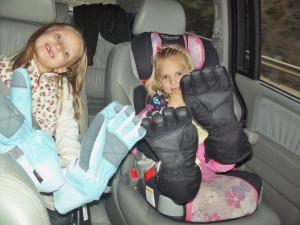 They both thought they were Curious George.  It did turn out to be very effective.
They also thought it was hilarious that I dried Alyssa's wet shirt by hanging it out the window.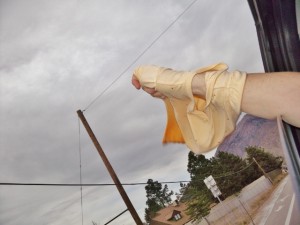 Also very effective.
We had a great day in the mountains.  We were super happy with the way our  walk in the woods turned out.  It may have been one of our favorite family adventures ever. So even though we didn't technically "walk" all that much, we're still counting this as #285 on the list.
Related posts: