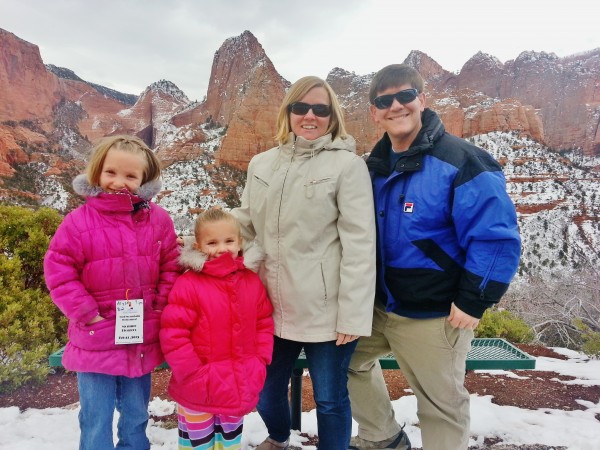 I won't lie, my favorite place to travel for our winter break is Maui, Hawaii.  Unfortunately going to Maui requires lots of time and money.
Lucky for us, we live in Utah.  There are LOTS of fantastic places to enjoy Utah winters in a variety of ways.  Besides skiing, we LOVE to see Utah's red rocks in the winter.
In this post I'm going to give you 5 reasons to travel to Zions National Park in the winter.
1. No crowds.  In the Spring/Summer and Fall it's wall to wall people and cars.  In the late 1990's tourist cars were banned from driving inside the park.  Before then, more than 5000 cars a day snaked through the park looking for fewer than 500 available parking spots.

You can imagine how traffic and parking problems could detract from the parks serenity.  In the winter ALL cars ARE permitted in the park.  During our trip our car was usually the ONLY one in the parking lot.  It might have felt eerie if the serenity and natural beauty weren't so distracting.
2. Natural contrasts. You haven't lived until you've seen the contrast created by snow covered red rocks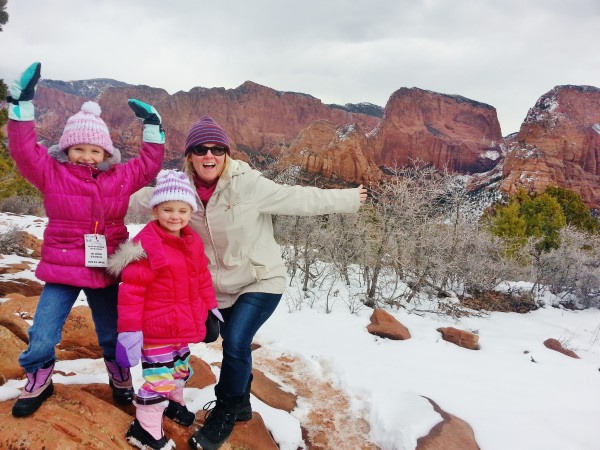 under bright blue skies.  It's breathtaking and worth the drive.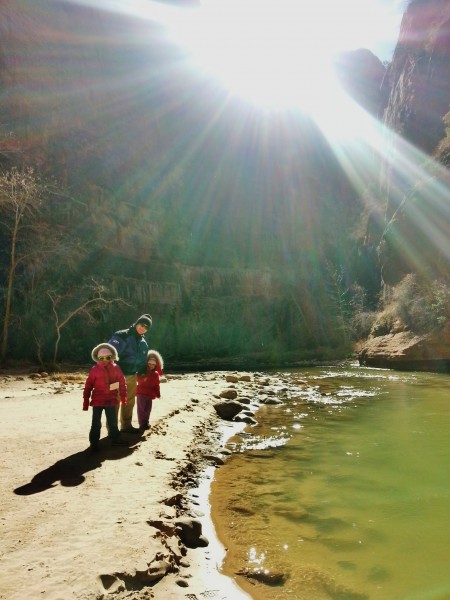 3. Photo opportunities. I won't lie, sometimes I do things just to get a photo I can keep forever.  In a place like Zions Park all the best photo opportunities are crowded by the zillions of amateur photographers all wanting their own original shot.
With almost no one there, we hung around the most incredible vistas and took as many photos as we wanted.  AND…We never had to wait for the token hairy European guy to move out of the shot. It was photo paradise.
4. Incredible hotel rates.  We stayed at the Pioneer Lodge in Springdale which is the town right in and around the park.  It was a charming log themed motel which was super clean, very comfy and only cost us $57 dollars a night.  That's $100 less than their regular season rate. Their basic room included two queen beds, a fridge, microwave. Although it wasn't the largest room we've ever stayed in it was definitely the nicest one for the money.
5. Incredible warm temperatures. When most of Utah is experiencing frigid winter temperatures, Zions is usually mild.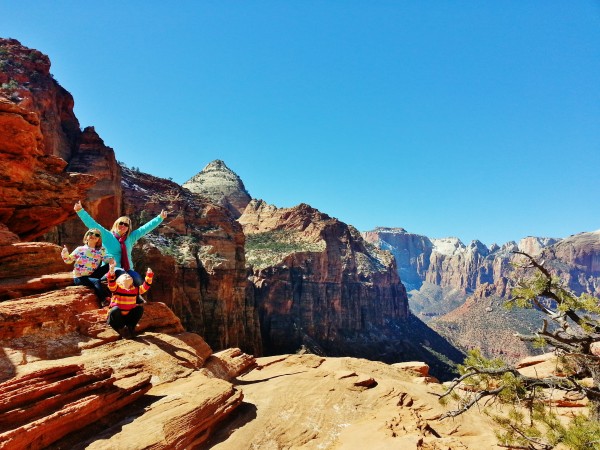 Sure, it cools down in winter too, but a jacket and a cute winter hat will keep you comfortable while you're hiking.
Truthfully when we visited, It was unusually cold.  We wore coats, hats and mittens half the time and light jackets the other half. The good news is we were completely comfortable outside all day long dressed in our warms.
No matter what we were wearing to keep warm, It was so nice to hike with out getting hot and sweaty.
If you're considering a winter trip, I hope I've given you enough reasons to try Zion's National Park. There are hundreds of other reasons to come and see for yourself that Zions is the place to be in the winter.
Related posts: