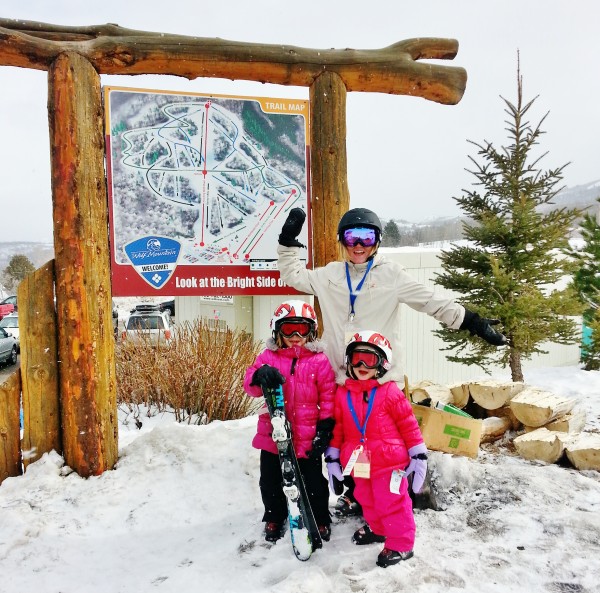 I can't think of many things mobettah than FREE skiing and I'm so excited to be partnering with Wolf Mountain Ski Resort to offer FOUR ski passes today!
If you've been reading anything I've been writing this winter you know we've been working on getting kids to ski this winter.  I won't lie, my motivations for this are selfish.
Skiing takes a lot time and we want to ski a lot and it's easier to take the kids with us rather than get a baby sitter for many hours.
I was recently invited for a day of free skiing for me and my girls at Wolf Mountain in Ogden Canyon.  It is such a cute little family boutique ski resort.  We absolutely loved it!
A few weeks ago we took the girls to Alta for their first time up the ski lift.  It was a smash success for Alyssa.  What can I say?  The girl is afraid of nothing and is a natural born skier.
Sunny who is two and a half years younger was obviously NOT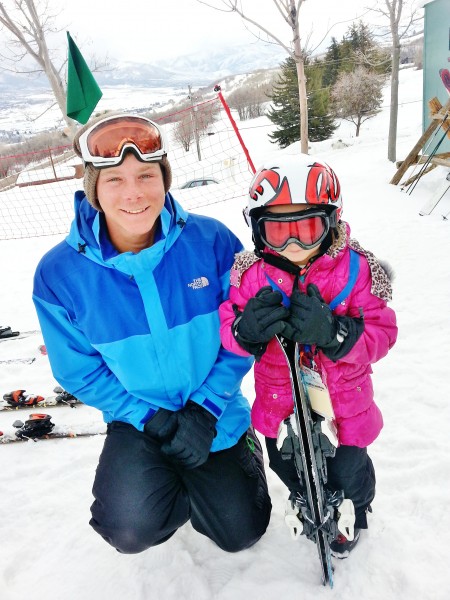 ready for the lift.  I DID know that, but I thought I could get her down the hill fairly easily anyway.
Without going into a lot of the unpleasant details about the most unpleasant ski run of all time, I'll just say I was WRONG. It was not easy.
Which brings me back to Wolf Mountain.  Their offer was for ski lessons for the kids and me.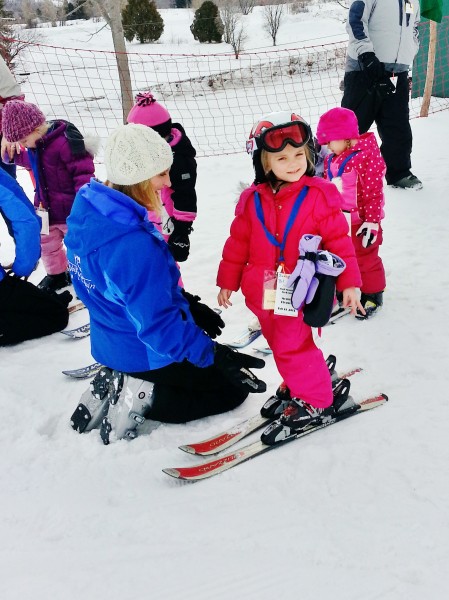 They met up with their ski instructors and hit it!  Sunny who struggled so much at Alta seemed to be right at home in the Wolf Mountain beginner area.  She learned to turn and to stop which were the two things she CLEARLY could NOT do the week before at Alta.  Plus, she was DANG cute while she was doing it.
Alyssa took to the Wolf Mountain terrain like she'd been skiing there her whole life.  They have a half-pipe and some roller-coaster hills that she LOVED!  Her teacher was also adorable and so great at instructing her lesson while having fun.  I don't think she even realized she was in ski school.
This was my first-ever non Alta ski experience.  I must admit that at first, I struggled. I felt out of control and willy-nilly on the slope.  But…after my first run I realized that my boots were UNBUCKLED!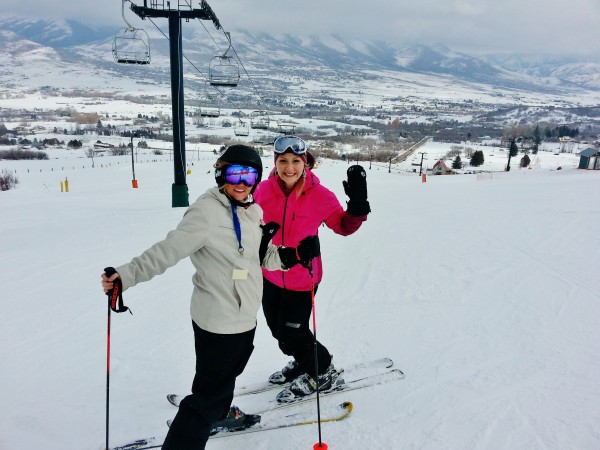 That might explain why I felt out of control.  It's much harder to make your skis do what you want when they're not actually fastened to you.
We ate lunch at their newly remodeled lodge.  IT was affordable and delicious.  After lunch we hit the slopes again.  The thing I loved best about Wolf Mountain was that the beginner area was so accessible.  I could see Sunny skiing the whole time AND I was free to join her anytime I wanted.
They have a cute "magic carpet" that anyone is welcome to use. 
We rode it time and time again together.
Wolf Mountain besides offering the absolute lowest prices on lift tickets and rentals is the perfect place for families with new skiers to get up on their own two skis.  The hardest part of the whole day was getting Alyssa out of her ski boots.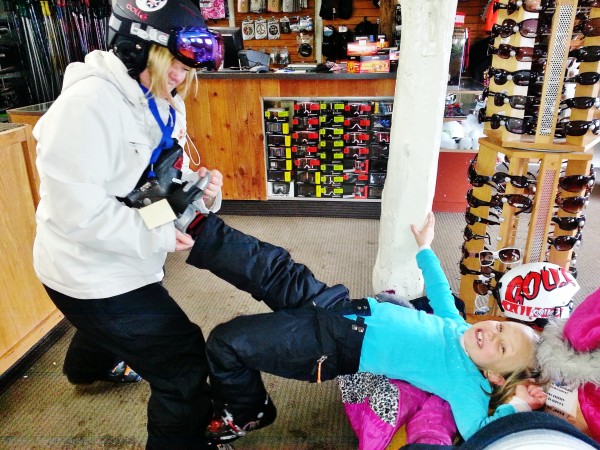 Seriously I was afraid we were going to have to break out the hacksaw.
We had so much fun at Wolf Mountain.  I'd recommend it for a day of family fun for anyone.  I'm so excited to offer a four pack of passes in the giveaway below.  Feel free to enter and to tell your friends!
a Rafflecopter giveaway