We've been in the midst of making a string of home improvement projects at our house.
Monday's post mentioned we're NOT DIY people.  We're more like HSE (Hire Someone Else) people which is expensive and basically means we don't get much done around the house.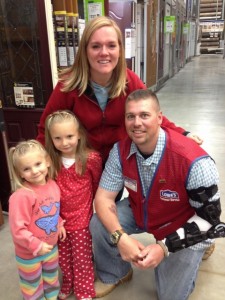 Anyway…while at Lowes this weekend, we were looking at some doors and being assisted by a very nice Lowes associate named Steve, who had what looked to be a bionic arm.  We figured he'd just had some surgery on his shoulder or elbow or maybe a combination of the two.  Honestly we didn't think much of it other than to notice the contraption on his arm.
He gave us all kinds of advice, shared his expertise and moved with us through the store as we perused different products for projects happening at home.
We finally ended up at the "Project Desk" where he helped us design and get a bid on a deck.
He mentioned saving our project description under another guy's name since he wasn't planning to be around.  We asked where he was going and he mentioned that he was active duty military and was headed out again.  Then I noticed his military haircut and then looked again at his arm.
I didn't want to be rude, but I HAD to ask about it.
He told us that he'd recently returned from Afghanistan casually explained that his arm had basically been blown apart by an enemy IED.  I was stunned.  I hear all about IED's on the Today Show, but I never fully connected the danger to real-life people.   People I might meet at Lowes in my own community.
Only because we asked, he told us a little about his recovery and how surgeons had moved the nerve inside his arm which allowed him to recover some sensation in a few of his fingers.
I realized in that moment that we were in the presence of a wounded war hero.  I hate to sound all melodramatic about it, but the man almost had his arm blown off and he was getting ready to ship out AGAIN!
If that's not a hero…what is? This man, and all our Soldiers and their families are amazing people and deserve to be put on a pedestal.   I know I couldn't hack it as the wife of a soldier.  I'm too soft.  I could barely hold back my tears over his sacrifice for me, and my family and our freedom until he was five steps away from us.
I cried tears of gratitude for his service as we bought our silly little home improvement items from the checker.  I sobbed all the way out to the car.  Steve and I looked at each other once we were back in the car and asked ourselves what had just happened.  Our casual trip to the hardware store had suddenly transformed into an amazing experience where we realized maybe for the first time what selfless service our military members give us on a daily basis whether we realize it or not.  We'd met a true war hero.
I felt like I should throw him a parade, or give him a medal or at least buy him dinner.  Because we were too stunned by his story the first time around, we ended up going back into the store to properly thank him for his service to our country.  I wanted him to know that we appreciated and noticed his courage and sacrifice.  Of all the stupid things I take and post pictures of, this was one opportunity for a photo I did not want to miss.  A picture with a real-life hero rather than some of the idiots I've had photos with in the past.
So here he is, Steve, a Lowes employee, a wounded soldier on the road to recovery, an American Hero.  I hope he finds this post. I'm sure he'll be embarrassed to read it, but I want him to know that we were touched by this experience and were really grateful to have met an inspirational public servant.  We wish him well in his recovery and wish the best for his family in his absence.
God Bless the USA.
Related posts: