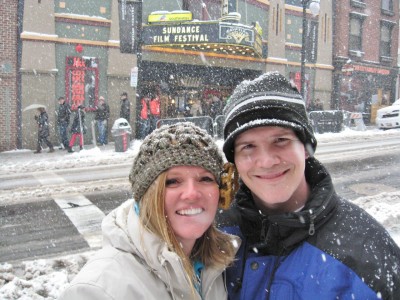 If you're talking about things that are fun, things that I look forward to…Going celebrity watching at the Sundance Film Festival has to be number one on my list!
When I was dating my husband, he took me to an Aneheim Angels game. I saw Bill Nye the Science Guy sitting not too far from us. This was very exciting to me and I decided then that I wanted to do more celebrity stalking.  Over the years I have sought out many opportunities to see celebrities, especially when the stars come to me in Utah at the Sundance Film Festival.
This year did not disappoint. We started out by walking Main Street in Park City.  We've had tremendous luck there in the past, so we decided to forgo film venue loitering focusing only on celebrity sightings on Main.
Unfortunately the snow was a bit of a bummer.  Normally we LOVE the snow and snowfall, but the snow was INCREDIBLY wet and plentiful.  It felt like someone was constantly spraying our face with a misting spray bottle.  It was hard to see where we were going, let alone look at everyone in the face and underneath all their winter wear to see if they were famous.
Last year we found and stood outside the New York Lounge on Main Street watching multiple celebrities be interviewed by different reporters.  This year, when we walked by the same lounge, there were no celebrities, but a lot of media people.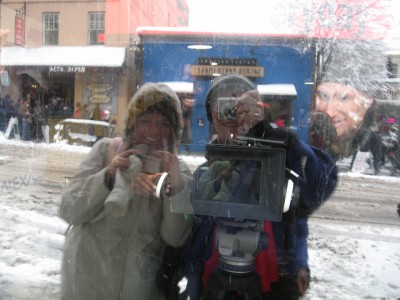 One group noticed us outside the window and turned the camera on us and started filming.  They motioned for us to be animated and to take some photos which we did, like we were idiots standing outside The Today Show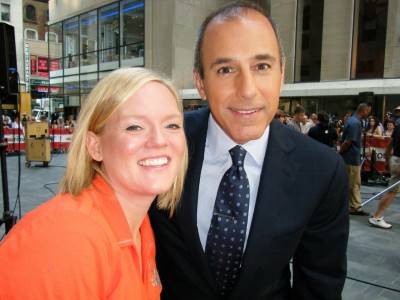 (which I've also been).  Then they invited us in to show us the footage.  It was a little embarrassing, but kinda cool to see ourselves on camera.  It was really fun to be inside the lounge.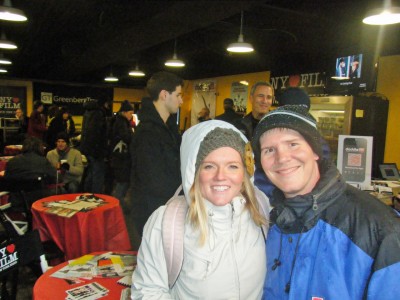 You might be able to tell that this group was the New York Film Commission's home base.  We met some fun people and got some fun shots.
After, we wandered around for a while without seeing a single famous person. We were again summoned to come inside the old Harry-O's club by some scantily dressed women. They were throwing a Yogurtland themed Dance Party!  We just had to see what was inside.
Inside we were given as much free stuff as we could carry.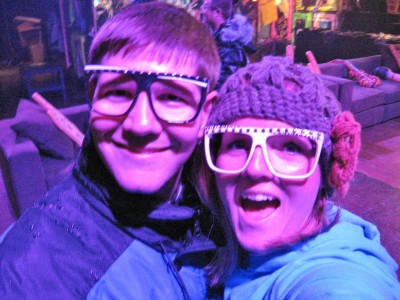 We got free glasses (sans lenses), a hoodie, and exercise top and as many temporary tattoos as we wanted.  I also made several new friends.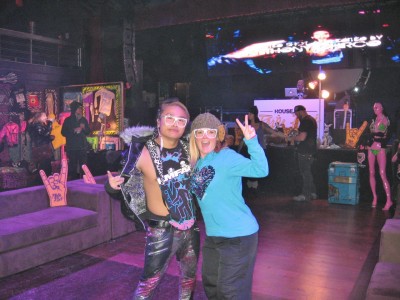 This guy…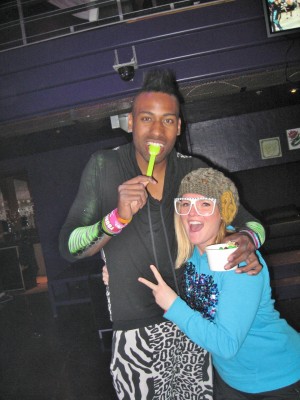 And this guy…
They both LOVED my sparkle-heart top.  I mean, who wouldn't? It's awesome (and totally age appropriate).
We were having a blast, but started to feel like we were inside the great and spacious building, so we didn't stay too long. Plus we had a job to do.  See celebrities! So we took the loot and split.
We didn't really understand what the point of the party was until we got home and researched it a little. Apparently it was a clothing line launch for the ever-popular "music" group LMFAO.  You might know their song "Party Rock in the house tonight, everybody gonna have a good time"  Recognize it yet?  "Everyday I'm Shufflin, shufflin" Now you know it!  If you still can't recognize the song, here's a link.
Anyway, I totally can't wait to wear my new Party Rock gear to my next dance party which will likely take place at my local Rec Center during a Zumba class.  All my Zumbie friends will be so jealous of my new threads!
We cruised around for a little while and struggled back through the snow.  I had some serious make-up problems evidenced in this photo.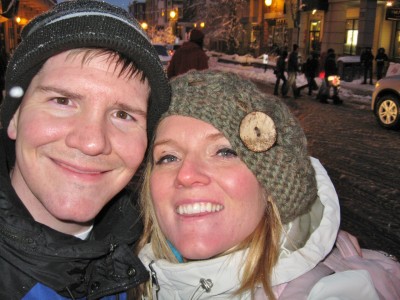 Notice my upper eyelid? That's an imprint of my liquid eyeliner.  Since there was nothing I could do to make it better with out q-tips, I decided to just go with it.  Who knows, maybe all the stars will be wearing double eyeliner next year.
Next, we came across the Acura coffee lounge.  Through the window we thought we saw Michael Douglas hobnobbing.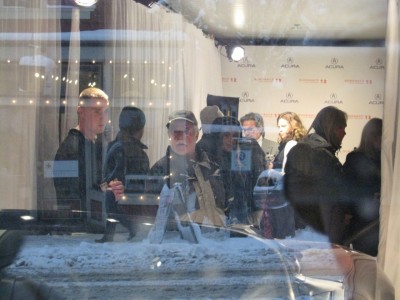 Let's just say it WAS him (it wasn't).  We looked in for a while and then walked on when we noticed sign on the door that said "Come In" So, we did.
Despite our un-famous attire and the moisture we tracked in, they treated us like celebrities in there!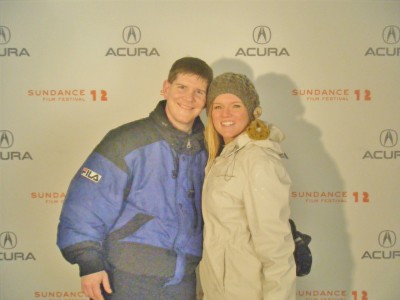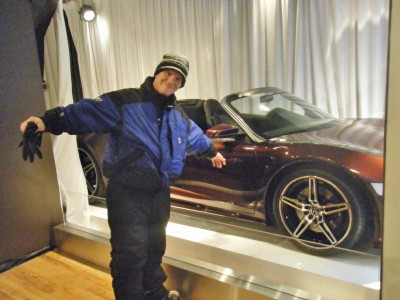 They insisted they take our photo in front of the media wall.  Invited us to view the hot car.  They even offered us hot coffee.  It was pretty awesome, except the fact that all the snow which was on us started to melt and water was POURING off of our hats and coats and my backpack.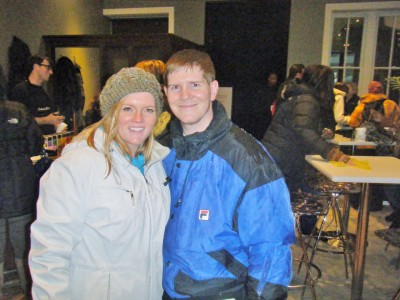 It was a little embarrassing, so we moved on.  And set out to saunter around some more on Main Street.
After a few more minutes outside, we finally gave up on walking the streets and decided to squat as long as we could under a covered sidewalk to wait for famous people to walk past.   We heard that Ethel Kennedy (the wife of the late Bobby Kennedy and sister-in-law of JFK) was lurking around nearby.  We did see one old, old lady, but she looked so UN-famous we knew it couldn't be her.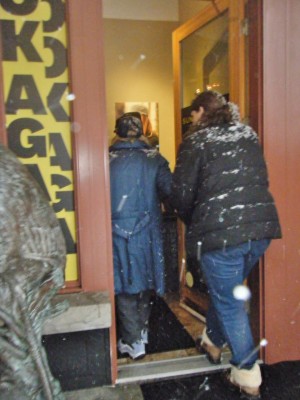 Here she is from behind wearing an old coat, tennis shoes and a promo baseball cap.  We knew that couldn't be a Kennedy.
Just as we were wondering if we'd ever see anyone famous, a familiar face walked by.  I know him as Tom Hatherford.  That's the character he plays on NBC's Parks and Rec.  He quickly slipped right past us and into the Denim Bar Store.  We followed quickly behind him.   I asked him for a photo once I caught up to him.  Aziz Ansari wasn't as gracious as I would have expected Tom Hatherford to be, but he was nice enough to stand there while Steve snapped this photo.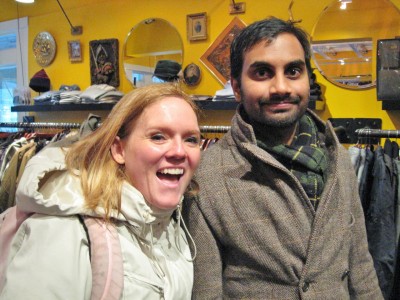 Even though he wasn't as excited as I wished he would have been, we were still pretty thrilled to have this sighting.  We actually do like this guy and watch him every week on TV.
We went back out and took our post back on the sidewalk.  The aforementioned un-famous lady came out of the T-Shirt store and attempted to cross the street right in front of where we were standing.  She was at least 80 years old.  I was worried about her safety.  She did have a person with her who was helping her through the snow, but I knew it wouldn't be enough to get her across the street without falling.  There was at least a foot of slush in the gutter and all over the street.
I quickly moved over to her side, took her arm, and told her I wanted to help her get across without falling.  She looked at me like she thought I was an angel.   So, the three of us and Steve who helped block traffic, safely got this nice old lady across the street.
She thanked me several times and asked me what my name was.  Since she asked me my name, I asked her if she was Ethel.  I expected her to say no, but she said.  "I sure am!" Once we got to the other side I told her how lovely it was to meet her and asked if she'd mind if we had a photo together.  She happily agreed.
Steve took this shot.  Right after she turned to me and said… "He was WAY too close!  I am going to be all NOSE in that picture, tell him to move back and take another one!"  Steve quickly followed her command and we took a second shot.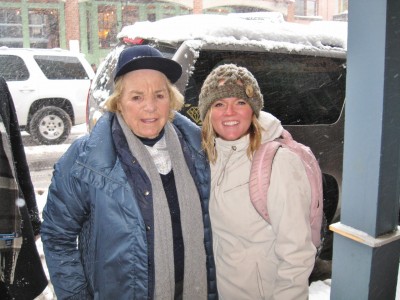 Here it is.  She was right, she did look better the second time.
Then she was helped into a waiting luxury SUV and whisked away.   If you're wondering why she was there, one of the biggest films premiering at Sundance is called ETHEL and is about her life.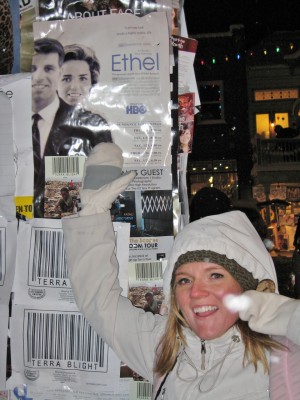 The premiere happened the day before.  Taylor Swift came to the premiere.  I guess she has a fetish for the Kennedys. I guess Ethel was just doing some last minute shopping before heading out of town.  She was shopping in the Sundance Festival store.  I guess she wanted a T-Shirt or a magnet for a souvenir.  She's just like me.
It was quite the Sundance experience.  You just never know who the famous people are.  While some look really famous, others look as unfamous and anyone can get.
If you don't already  know (I didn't) Ethel Kennedy is Robert Kennedy's wife and mother to ten children.  She's JFK's sister-in-law.  In doing a little after research we learned that Jackie O wouldn't let her children play over at their cousins' house because she thought it was too wild over there.  I guess I can't blame her.  Ten children?  I bet it was wild.
After the commotion was over, we took our posts back in our spot and waited.  After a little while, we saw some commotion and moved over to see who it was.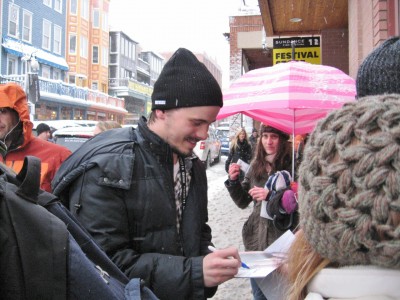 Jason Ritter.  John Ritter's son.  He was gracious to everyone.  He signed autographs and also posed for pictures.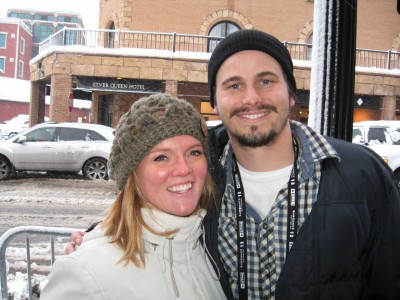 Here's me and Jason Ritter.  He was a very nice guy.
We waited in our spot for another good while and then the sidewalks got pretty crowded.  It was pretty late in the day.  People were starting to come off the ski slopes and up Main Street toward food or hotels.  There was a pack of people who sounded like they were having fun moving toward us.  When they got right in front of us, I recognized a voice.  It was a voice I knew from watching every episode of Donald Trump's Celebrity Apprentice (What? It's quality television).  It was Lil Jon!  He was my favorite contestant maybe ever next to Jesse James (except now I think Jesse James is a scum bag for cheating on Sandra Bullock).
I jumped off the curb I was standing on and shouted Lil Jon, I need a photo with you!  You were my favorite on Celebrity Apprentice!  He said… "Get over here girl!"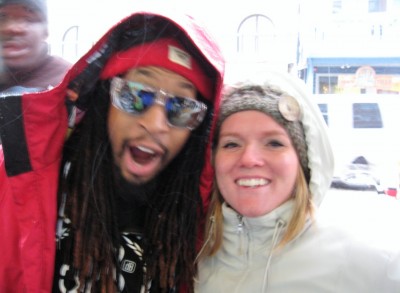 And this is the photo!  I loved it.  He was so awesome.  He was the same in real life as he was on The Apprentice.
Several other groups of famous people passed by us.  I know they were celebrities, but I didn't know who they were.  One of the groups I found out after the fact was Ice-T.  He had quite the entourage with him.  Next year we need a celebrity expert with us.  Despite the fact that we do this every year, both Steve and are oblivious to most celebrities.  I have no problem running up and getting the photo, I just need to know which ones are the celebrities.  Why don't I spend MORE time watching Access Hollywood?!!
We hung around for another little while.  My boots were major leaking and my one foot was totally wet and sloshing around inside my boot.  Not fun.  It started to get dark and was snowing pretty hard.  I really didn't want to call it quits, but Main Street seemed to be emptying out as people were filling up the restaurants and bars.
My feet and my back were starting to ache from standing in one place ALL DAY LONG.  We decided to make one more walk up Main Street before calling it a day.  I'm glad we did, because it was so beautiful. Snowy and slushy, but beautiful.
How many opportunities do you have to walk around in the snow like this.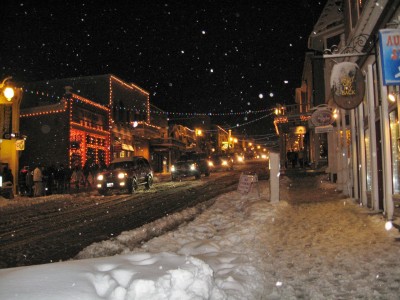 We made one more pass by the Egyptian Theater.
Then made our way toward the transit station to catch a bus back to the lot where we parked our car.
Here's a look at what we traipsed through all day.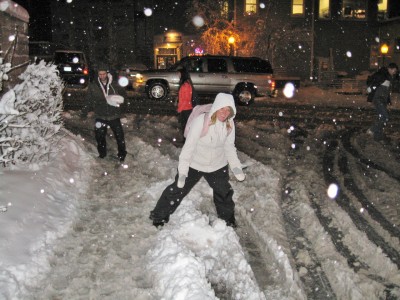 No wonder Ethel Kennedy needed and extra hand.
We were greatly relieved to be sitting down on the cozy shuttle bus at the end of a long, but thrilling day in Park City.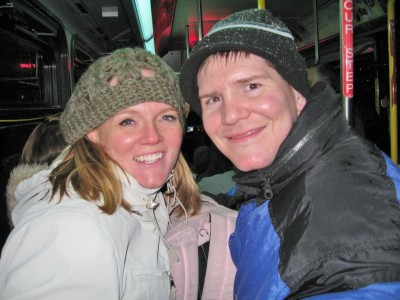 We ended the day with a white knuckle drive through Parley's Canyon.  I wondered if we might be spending the night on the side of the interstate.  The snow was coming down so hard and we moved along at about 5 miles an hour. Just when we couldn't move any further, three big snow plows came by and plowed us through.  It wasn't pleasant travel after that, but it was do-able.  Before we knew it, our baby girls were back in our arms.  I missed them after being gone all day.  Big thanks to my Brother and Sister-in-Law who watched them for us.  Without their help our FUN day in the snow together would not have been possible.