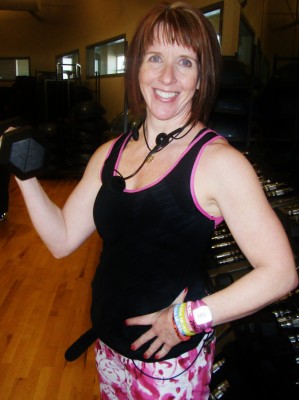 I have to start by saying how much I respect and LOVE being around Ralynne Purdy.  It's the highlight of my week.  Seriously, I love her.  She's like warm sunlight on my face when I'm cold.
Shortly after our new rec center opened I hired a Personal Trainer for a few sessions because I had NO IDEA how to operate any of the equipment there.
My trainer happened to be Ralynne.  She was not intimidating like I feared.  While we worked, she distracted me by asking about my life and telling me about hers.  I felt great about myself while I was with her.  She's been teaching group fitness and personal training for more than 18 years and she's perfected the art.
"Exercise saved my life," she told me while I was doing multiple sets of inclined sit-ups (which was very hard for my flabby abs).  "I left an abusive marriage when I was pregnant with my first daughter.  It was hard.  Before too long I was literally packed to go back to him. One of my girlfriends stopped me and took me to the gym.  She told me I needed to go exercise with her before I went back to him," she said.
"The exercise empowered me.  Even though I wasn't emotionally strong, the exercise made me feel stronger. It made me remember who I used to be before my first husband."  She credits this experience with exercise as her first step back into a healthy life.
She credits her mother with teaching her to be an active person.  "My mother is 78 years old and has Macular Degeneration.  She still exercises in her garage every day.  She does full push-ups from her toes (not like the cheater ones I do from my knees) and she kick-boxes," Ralynne told me.
"When I was a kid, my parents used to wake us up early and we'd ride our bikes to Provo (45 miles one way), the whole family. I'd get on my little banana seat Schwinn and pedal down to Provo. We'd stay overnight in a hotel and ride back the next day.  We did stuff like that a lot," She said.  "We rode everywhere as a family."
What an accomplishment that would be, a family long-distance bike ride.  I wouldn't think a family with little kids would be capable of that.  We put a lot of limitations on ourselves, don't we?  Hearing about this opens up a lot of possibilities doesn't it.
You can see her life-history in her behavior at the gym.  Even when her classes are full (and they always fill up), she rarely turns people away.  She wants everyone to get the workout they need.  "My motto is BE NICE. You never know what is going on in someone's life.  Attending one class can empower you forward through the thing's you're struggling with.  It did for me," she said.
Empowering people is what she does best.  At least that's what she's done for me in the training sessions and classes I've attended with her.
And speaking of classes, let me tell you about her Power Lift class.   Before this, I'd never lifted anything. I was too intimidated to learn, but this class has changed that.  If you don't believe me, just look at my guns.  BooYAH!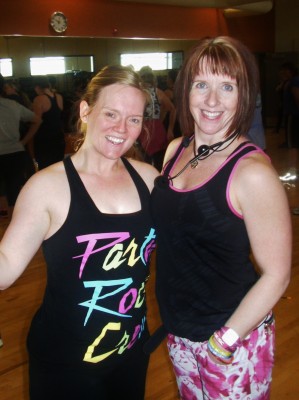 Notice my new Party Rock work-out top.  Courtesy of the LMFAO clothing line launch party I attended at The Sundance Film Festival.  Somehow I still don't look as "Party Rock" as the people at that party.  What am I missing?…Oh, the Glasses! And probably some piercings and some sleeve tattoos.
My new favorite thing is to do blow-dry my hair and watch my biceps and triceps flex as I move the dryer and brush around.  Lift pushes me harder and makes me do more than I ever would on my own.  Even though the class is tremendously difficult and I am sore for days afterward, I still love to go because I love to be in the same room with Ralynne.  She's enchanting, lively and F-U-N!  Watch out though because she routinely tricks her class into doing more reps with heavier weights.
Ralynne is the best of the best.  If you live around here, you'd be foolish not to find her classes and start attending.  She's also for hire as a PT.  It might be the best thing you've ever done.
Her contact information is  purdyfit@yahoo.com  or her phone is 694-6873
What are your favorite exercise classes or activities?  What new things would you like to try?