So I got this really handy kitchen item.  It's a Panini Press.  My mother-in-law has one and made me a really nummy sandwich one day when I was SUPER hungry.  After that sandwich, I knew I had to have one.
This little machine has been quite the addition to my little kitchen.  We've made some really great sandwiches with it, especially during the first year we owned it.
I've had it about three years now and I don't make fancy sandwiches anymore because it's just too darn much work and it leaves me with a lot of things to clean up and put away.  I still use it to grill Ham and Swiss sandwiches on a regular basis though.
Its main usage, if I'm being perfectly honest is to press my kid's Dino Shaped Chicken Nuggets (thanks Costco).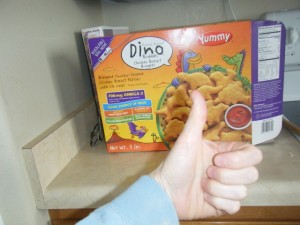 What? They're healthy, and all natural, I'm sure.  There's tons of nutrition packed in there.  See, it's right there on the box.
So now, I refer to this machine as my Dino Chicken Nugget Press.  My husband thinks it's hilarious.
I get a lot of satisfaction out of this unintended use of this fancy machine, which is how I am quantifying this post under my "Thoughts on Happiness" category.
See, before, we used to just microwave the nugs.  They were sick that way if you ask me.  My kids didn't seem to notice or mind, but inside I felt all this "mother guilt" for feeding my kids something I myself was NOT willing to eat.  Sweaty chicken nuggets?  No thanks!
Since I've had the Dino Nugget Press, I sometimes join in on the shaped meat lunches.  It's one of the only shaped meats (besides In-n-Out burgers)I can tolerate.  (I have a problem with shaped meat.  No meat loaf, hotdogs or sausage of any kind.) Nature did not intend for meat have a particular shape.  (Sometimes I think I am only about three inches away from being a vegetarian.)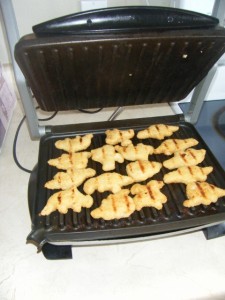 The Panini press puts awesome grill markings on the "meat" and makes the outside all crispy.  My favorite way to eat my Cuisinart Panini pressed Dino Chicken Nuggets is drizzled with Frank's Hot Sauce and Dipped in Lite House Chunky Blue Cheese Dressing.  It's delicious and reminds me of eating Chicken Wing Pizza at Gerlando's Italian Restaurant in Watkin's Glen, New York.  It's my favorite restaurant. (It's very frustrating to live 2000 miles away from it.)
Please note that none of these brands or institutions paid me for this post.  They should have, but I didn't ask them to and they probably would have said NO if I had.  These are my honest and true feelings.
So if you're wondering what the point of this post is, you're probably not alone.  Even I, at this very moment, am still trying to work that out in my head.
The point is this…If you're feeling "mother guilt" about something that you are doing on a regular basis (like feeding your kids something that you find repulsive), find a way to restructure or eliminate that action or behavior. Life is too short to be feeling like a "bad mother" all the time. Find something fun to do instead.  Heck, you could even include your kids.  There are plenty of bad mothers and derelict parents out there, but I'm willing to bet that you're not one of them.
Keep pressing on!
Related posts: