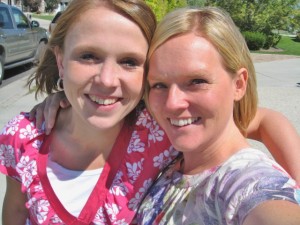 We moved into our house in January 2005 and I swear I did not see one person who lived on this street until April.  I saw no cars.  I saw no one at their mailbox.  I saw no garage doors go up or down.  I was desperately lonely.
When it finally warmed up I met some of my neighbors.  I'm a friendly person, but the people who lived next to me were NOT interested in being friends. That was very clear. Luckily, they moved just a few short months later.
When my new neighbors moved in I marched over like a woman on a mission.  I didn't want to live my life on this street without a single friend.
I remember so vividly knocking the door post-it note in hand with my phone number scribbled on it.  Jenny opened the door with her darling then 3-year-old daughter right beside her.  I stood on her porch and informed her that we were now "friends"seeing as we were next door neighbors and all. I told her she was to call me if and when she needed anything or wanted to chat.
Over the years our friendship has grown.  It's grown into one of my most valued treasures.  What I didn't know the day I knocked on her door for the first time was the unbelievable resource for improvement and good that she would be in my life.
Over the years we've spent countless hours chatting out by the mailbox, watching our kids ride bikes and borrowing cups of sugar.  Somehow during all those interactions a little bit of her goodness, wisdom and skills rubbed off on me.
Jenny and I have A LOT in common, but we have very different personalities.  I would dare say that my weaknesses are her strengths and vice versa. She has cheered for and helped me lose weight and in the process become athletic, organize my house, prepare food, shoveled my snow when we've been out of town and countless other things.
In addition she's been a tremendous example of motherhood.  I've watched her spend countless hours preparing and teaching her children lesson in academics and love.  If I'm half the mother she is to her children, I know I'll be a successful parent.
Jenny REEKS of inspiration.  I can think of no one better to post about when it comes to talking about inspirational people.  She may not be perfect, but she comes pretty dang close.
This is a woman who can run straight up the side of a mountain at the speed of sound.  It's a woman who has overcome great personal struggle only to turn around and offer support to those of us still struggling.  It's a woman with incredibly muscular arms and legs, but is still so feminine and beautiful.  It's a woman who cooks from scratch for her family every night and whose children have never eaten a pre-made chicken nugget (that's an accomplishment).  She's a person who has mastered the art of keeping a neat and tidy home.  She's a person who knows what is important and makes plans to accomplish the important stuff first.
She may never realize how much inspiration she has provided me with over the years.  In addition to all her usefulness to me and my life, I just like seeing her.  I just like being around her.  I just really like her.
Here's the sad part…Deep Breath.  Last month, they sold their house.  They're moving in a week, and I've been walking around my house sobbing about it for a month. I just can't imagine a life where Jenny doesn't live next door to me.  I just can't imagine not seeing my sweet friend every time I come or go.
Even though they're not moving all that far away, I'll always miss having her next door.  Knowing she's there has been such a comfort for six years.  We will get new neighbors next door, and I hope we can be friends, but NO ONE will ever replace the friendship we've shared (and will continue to share), the inspiration she's given and the valuable skills she's taught me about running a successful home.
I feel like a lucky woman to count her as one of my friends.  No new neighbor could ever replace the friendship we've shared.  If I haven't mentioned it before, I will deeply miss having her close by.
Sniff.
Related posts: