We lucked out and moved into a house that shares a back yard with Paul and Sharon Turner.  They've been the greatest neighbors to us.  They've also been great neighborhood grandparents to our children.
I have long admired this couple.  They have been through a lot of difficult things.  Things I'm sure I wouldn't have endured well.  Despite their highs and lows, they have remained true-blue outstanding people.
They have three sons who have grown up to be exceptional adults.  After saving money for a lifetime, they have recently opened up a family business.
If you haven't been to Dickey's BBQ Pit at Jordan Landing, you should probably make plans to do so right away.  The food is great, and no one is paying me to say that. Plus, everyone gets FREE soft-serve ice cream after their meal.  Beyond just the food, the atmosphere is really great.
Being in their restaurant is extra special because I know it's the realization of Paul's dream.  The restaurant is the result of saving and sacrifice through the years.  Paul told me that he and the boys had been saving money since they were young children to be able to open a family business together.
After living near the Turners for the last 7 years I know that it couldn't have been easy.  They endured periods of unemployment, had a child who spent most of his first 15 years at Primary Children's Hospital with a variety of health conditions and had various other hardships.  Through it all, they stuck with their plan.
Opening the restaurant was no easy task either and life didn't take it easy on them.  There were countless frustrating delays and unexpected expenses.  The day before the restaurant opened, Sharon's elderly mother, who had been ill for 10 years, died.
Despite the family tragedy, the show went on at the restaurant.  Dickey's has been wildly popular and exceeding expectations.  Everyone in the family has been taking shifts after their day jobs, coordinating catering jobs, washing dishes and doing whatever it takes to keep the restaurant up and running smoothly.  Their new norm is 18 hour days.  Isn't it exhausting just to think about?
I am really happy for the success they're having.  It really is inspirational.  Sooner or later the dust wilI settle and I hope they won't find themselves having to work as hard or long.  I've got dish-pan hands just thinking about it.
Mainly, I am just really proud to know them and proud that they have planned and executed something that has been so successful.  This is what it looked like at their grand opening.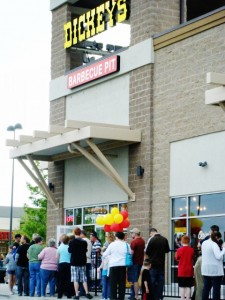 The line wrapping around the building.  Don't let this detour you from visiting Dickey's.  These lines were one night only.
Do you have a dream?  Maybe yours isn't to open a restaurant, but is there something you'd like to see through?  Don't let your idea stay on paper.  Make it happen.
If you find yourself at Dickey's be sure to try the marinated chicken.  There are so many delicious things on the menu, but the chicken is DELICIOUS.  Also try making a root beer float with your free soft-serve!