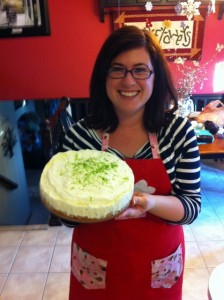 Wendy Paul is the author of 4 best-selling cookbooks called 101 Gourmet Cupcakes, 101 Gourmet Cookies, 101 Gourmet Cakebites, and coming soon…101 Gourmet Ice Creams. All together she's sold more than 50,000 books!
The books are a result of her passion for baking.  In 2007, she self-published a cookbook of her best recipes. To her surprise, she sold 400 copies of that book to friends, family and at local boutiques.
After that small success, her brother-in-law, an acquisitions editor at a local publishing company, encouraged her to submit an idea for an easy-to-do gourmet cupcake cookbook. Hesitantly, she submitted her idea.  That very afternoon she heard from the publisher who eagerly accepted her manuscript, and the rest is history!
"This was my DREAM that actually came to fruition.  I was really proud that I wrote, crafted and tested all these recipes and saw this whole project to the end," Wendy said. "Finishing this was HUGE.  It's so easy to do half of something and get distracted by life and forget about it."
In addition her wildly popular books, she's a regular contributor to several local morning shows and has made more than 2 dozen television appearances.
"I LOVE every moment on TV!  It's easier for me to be on TV than it is to talk in church," she said.  "I love feeling the excitement and showing off my recipes.  I NEVER thought this would be me, but I LOVE to do it."
You might think that it takes a special person to be a best-selling author, and, it does, but Wendy's message is that ANYONE who wants to, could do something like this.  And…your idea might take your life in a direction you NEVER would have imagined for yourself.
"It's so important for us as women (especially us who stay home) find something we love and DO it.  We possess so many unique talents.  We need to find a few minutes a day or week to do something we love that makes us happy, and then share it with people," Wendy said.  "Budget a little time and money for you.  Don't feel guilty, because YOU ARE IMPORTANT in your family.  A happy wife is a happy life."
I totally agree with Wendy's sentiment.  Women who regularly pursue personal passions are less resentful of the lifestyle and sacrifices it takes to be mother. Wendy is a perfect illustration of a woman who prioritizes family first, but doesn't let her family obligations stop her from having her own personal interests, goals and ambitions.
I asked Wendy what she would tell women who had an idea of something they'd like to do.  "I'd tell women NOT to let their idea stay on paper."  Take some action and DON'T be afraid to ask for favors. When people see how happy and excited you are about your project, they will want to help you.  I've found almost without exception that people WANT to be a part of what you're doing when they see your joy and excitement.
Related posts: