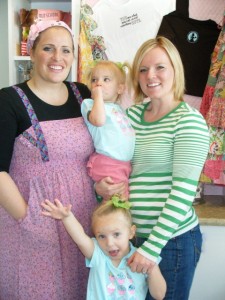 The Sweet Tooth Fairy.  If you haven't heard of her or better yet tasted her creations, you really ought to.  I met the Sweet Tooth Fairy when my friend Elise, The Cupcake Activist, brought me some cupcakes from her very first store.
Shortly after my first taste two years ago, I made the 45 minute drive to the store for another cupcake. I was lucky enough then to meet Megan as she came out of the kitchen. It was easy to see she was working hard baking up a storm.  Still, she took time to personally greet and get to know me.  After that, her tasty cupcakes became a target of obsession.
I was thrilled/terrified a few months later when her second store opened up near my home. I wasn't sure I had will power to keep myself from visiting daily.  Since I am a writer and lover of cupcakes, my friend Elise requested that I review the new store for her cupcake blog. This gave me another chance to get to know Megan and grow an even more dangerous relationship to her treats.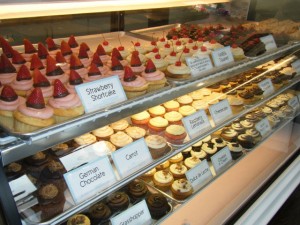 She's opened 8 more stores since then with more to come!  She's made dozens television appearances including national appearances on QVC where her cake bites are the top selling food item!
If you're not impressed yet, direct your attention to the fact that she was not only featured on Cupcake Wars, but WON the contest resulting in an unbelievable amount of national exposure for her and her stores.  Recently she's been asked back to participate in a Cupcake War of Champions.
Megan is more than just cupcakes.  Before her time as a baker she was a Federal Employee for almost 10 Years working for Utah Congressman Chris Cannon and then Jason Chaffetz.  She's a model of civic responsibility and highly encourages regular people to become involved in the political process.
Most importantly Megan is a wife to her husband Ethan and mother to four children all under the age of five.  Megan has worked hard over the last several years opening her stores, but still manages to keep her children close.  When she puts in long hours she's been known to have kids there with her, even sleeping on air mattresses inside the store while she finishes preparing for the stores opening.
Megan is an inspiration to me of taking a dream, developing a talent and sharing it with the world.  More than just baking, she is known for her charity ambitions and is currently working with the Safe to Talk Foundation, It's a school tip-line aiming to make schools safer by installing an system where anonymous texts can be sent by students to easily report dangerous or destructive behaviors by their peers with our fear of repercussion.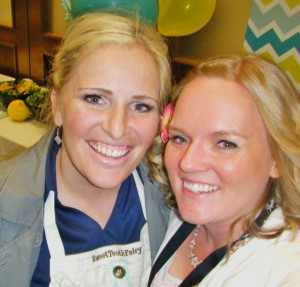 Megan is also one of the most humble successful women I have ever met.  I think she might not realize how famous she is and I certainly don't think she realizes what a unique talent she has.  I attended a class she taught recently at the Breathing Space Blogger's Retreat.  Meagan seemed like she felt underqualified as she taught the class and provided tips and tricks in the kitchen.  She acted as if she assumed we all knew what she knew and could do what she does like it was nothing special.  Let me tell you, what she has is a gift and it's something special.
I am so glad to know Megan and count her as one of my friends.  If you don't know her I invite you to check out her website or visit one of her stores.  My recommendation is the Strawberry Shortcake or the Dulce de Leche!
The Sweet Tooth Fairy has graciously offered a box of 2 dozen of her FAMOUS Cakebites to one of the readers of this post.  To enter this drawing, leave a comment ON THIS POST about why you want the Cakebites and one lucky winner will be selected from the list of commenters here ON THIS POST.  While you are at it, feel free to "like" The Vocal Sokol on facebook.  It won't help you win the contest, but it WILL make sure you always recieve a notice of new post and new drawings you can win.
The winner will be randomly selected from the list of commenters and notified next Thursday (May 17).  So be sure to enter before then.  The winner will receive a box shipped directly from Sweet Tooth Fairy headquarters.  Best of luck—Happy Cakebiting!
Related posts: