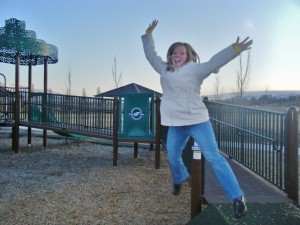 Almost exactly two months ago I posted The Funnest 30 Day Challenge Ever!  It was one of the highest traffic days this blog has ever seen!  I was so thrilled because it's probably been my most favorite post.
You must have liked it too, because I know a lot of you shared it via facebook and all the other space-age ways you guys all share stuff.  If I haven't mentioned it before I love when you SHARE this blog with your friends.  I need more readers to justify the amount of time I spend behind the keyboard here.
I also posted that day The List which really is almost the whole point of this blog.  A similar list literally changed/saved my life a few years ago when I was seriously blue.
Well, it's two months later now and I'm anxious to hear about some fun times had by all of you.  So…share…what did you do?
I took the challenge too had a lot of good times!  They were fun times I probably would have turned down if I hadn't been intentionally seeking fun.  Some of the fun included several lunch dates, took several sledding trips, some ski runs, jumped off some stuff and screamed like an idiot on the way down(see photo), reminisced about a fun trip, planned a trip in the future, made a wind sail and helped my daughter ride the wind on her skateboard car, ate a delicious treat and participated in many other varied activities in fun.
I have to say, this has been one of the most fun-filled months of my life.  None of it has taken a great deal of time or for the most part much money.  It's not just been me that's benefited from the fun either.  My husband and kids have also seemed happier, more entertained and less bored generally. The point of all this isn't just happiness for happiness sake.  I take the first great commandment (Love One Another) fairly seriously and i've noticed it's the times in my life when I am happy that I have a desire to LOVE and SERVE.
I watched part of a documentary this weekend about a country in Africa called Swaziland.  It was very…moving.  I cried a lot.  There are thousands of children there who have no parents.  They are learning from humanitarian workers what a tooth brush is.  They are fed only one meal a day.  Doesn't it seem ridiculous that we have so many incredible blessings, homes, cars, clothing, food, educations while others born in a different part of the world struggle for every breath, every meal.
The point is…there are a lot of needs in the world and all around us daily.  We each have incredible potential to impact the world for good if and when we are happy and undistracted by our own difficulties or sadness.  So…if you're not willing to do a few things for yourself here and there, do it for the world around you.  Happy people get more done.
I would LOVE to hear about your fun!  I'd love  this comment board to light up. I'll be embarrassed if it doesn't.  As a general rule I try never to beg for comments even though I LIVE to see them. I am going to make an exception in this case because in my experience fun breeds fun which breeds well-being which breed happiness which breeds brotherly love, which there isn't enough of in the world.  Commenting on this blog couldn't be any easier.  No signing in or word verification to hassle with.  All you have to do is write your name and your e-mail address (which is unpublished) and then leave your two cents.
So share…please share.  If you don't want to share on the comment board below, feel free to send me a private message via the comment form here.  If you don't want me to share your experience, let me know.
Related posts: