I love Valentimes.  I really do.  I always have. I just love seeing people walk up and down the street holding roses or some ridiculous oversized teddy bear.  I love all the balloons and the special cards exchanged everywhere.  But mostly, I love eating treats and chocolate.
I somehow managed to never have a "Valentime" of my own until I was married to my husband five months.  And oh…if I thought I liked Valentimes before…
Our first Valentime he came in the door holding two dozen long stemmed roses all wrapped and tied with ribbon.  Really.  I thought I might die.  It was wonderful.  He also brought me a box of delicious chocolates.  I felt like I was living a TV show Valentimes Day special.  It was awesome.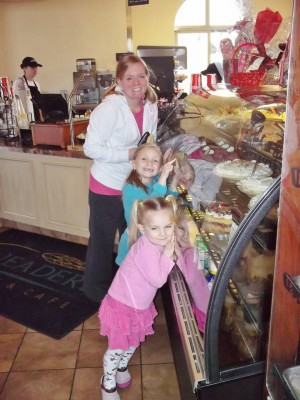 We still LOVE Valentimes as a couple, but we also love to celebrate Valentimes with our cute girls.  So to kick off the Valentime weekend we stopped by our local Bakery/Café Kneader's to have a special treat.  I've been hearing the ladies in town talking about this special new offering at Kneaders called the Chocolate Mousse Dome.  I actually had a sample of it once while lunching with my sister-in-law.  It was…incredibly good.
So we took the girls down for desert.  I think you'll agree from these pics that the girls were totally cute.
We saw the treats…We were excited to eat the treats.
No one tell the Kneader's folks, but these treats are ridiculously underpriced.  Only $1.99 each.  Their other cakey treats are all $4 each. I'd gladly pay more, but I'm glad I don't have to.  Anyway…we splurged and each got our own.  The girls couldn't believe their eyes.  We usually get one desert and we ALL share it.
In case you can't tell from the photo, this treat is made of Chocolate dipped chocolate cake and the most creamy and decadent chocolate mousse.  It's garnished by somehow being rolled in chocolate shavings.   Really, I don't know how, I can't figure out how they put this thing together.  It's an engineering masterpiece.
I have figured out one thing out though…at least I think I have…I believe the cake is really just a leftover muffin stump from a chocolate muffin.  See, they sell just muffin tops.  What to do with all the leftover muffin stumps….I think I figured it out. They top it with mousse, dip it in some kind of elegant chocolate "magic shell" (but better) sauce and roll it in shavings of chocolate.  Brilliant!  No one would ever guess they were eating a muffin stump.  "And they would have gotten away with it too if it weren't for those meddling "happy-fun-fun" bloggers!" (Please excuse my Scooby-Doo reference)
So at last we ate the delicious Chocolate Mousse Dome.  It was…incredible!  So yummy!  All of us were unanimous.  WE LOVED IT!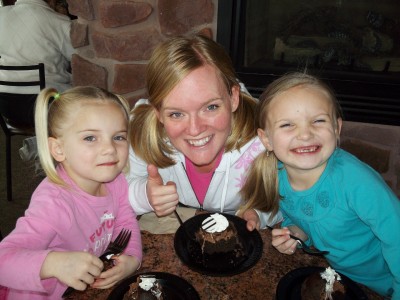 Having four turned out to be a little much.  We all brought home leftovers and ate it again (for breakfast the next day, mother of the year, I know).  No one complained about eating these leftovers.
I looked forward to going with Steve and taking the girls here all week.  Since this was such a scrumptious treat, I'm totally counting it for Number 291 on the list.
I hope your Valentimes is/was sweet and lovely.  If it wasn't I hope you at least got to eat something you really enjoyed!  I'd love to hear what it was.  Leave me a comment and let me know how Valetimes treated you.
P.S. In case you were wondering, I just think it sounds better as ValentiMes.