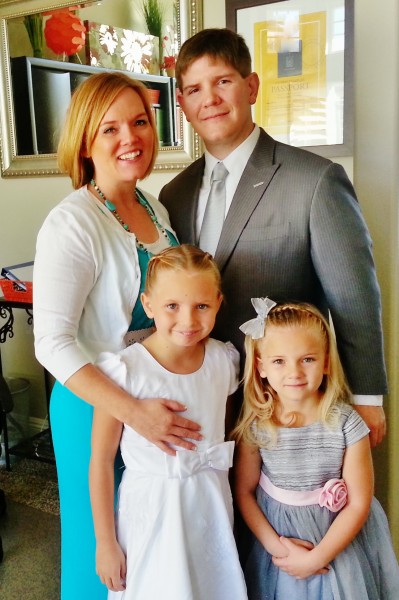 So my baby, who I swear was just born about three months ago, just reached the age of accountability.  So, she got baptized.  AND, by coincident, I think we just had the happiest day in our lives.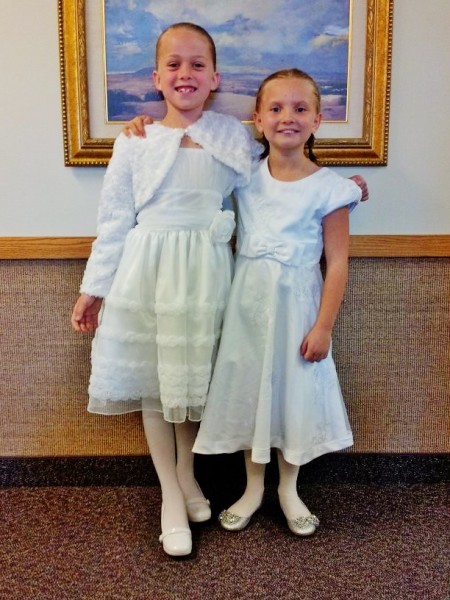 Most the joy I had was for my daughter who was SO excited to be baptized.  And she got baptized on the same day as her bestest little friend. 
Have you ever had a day when your hair and make-up just went really well and has that ever happened on a day when you felt skinny (even if you weren't)? And what would happen if you combined that with a major milestone in your child's life that brought all your favorite people together.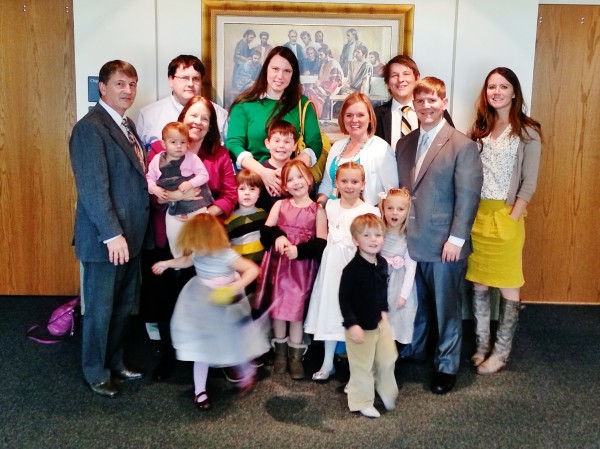 That's what happened to us.
Both sides of our family were in attendance at the baptism and at the after-party where we ate a delicious warm soup together.
It was such a joyful time.  It really just was.  AND…it wasn't stressful to plan.  Everyone brought food and we ate it together.  I was just really, very nice.
And then after that was over, we went to one of our FAVORITE places in the entire world with some of our favorite people.
Where did we go?  To Snowbird.  They are having an incredible deal this week to ride their tram. You can ride it for almost FREE! More details about that here.
We made some incredible memories and took some captivating photos.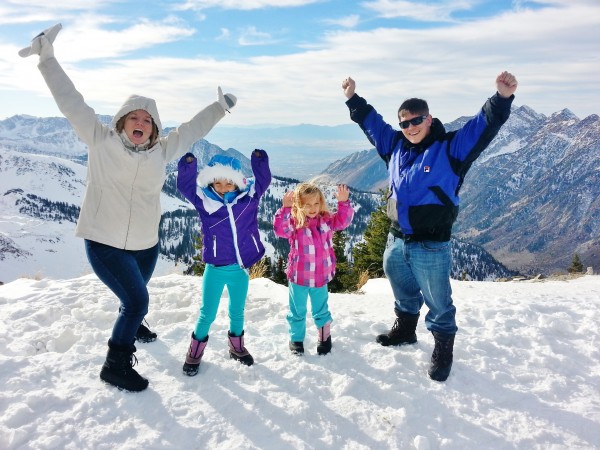 This is what it looks like on a white November day at 11,000 ft!
This is my new favorite photo of myself.  I only had to jump up and down 45 times to get one photo of me in the air.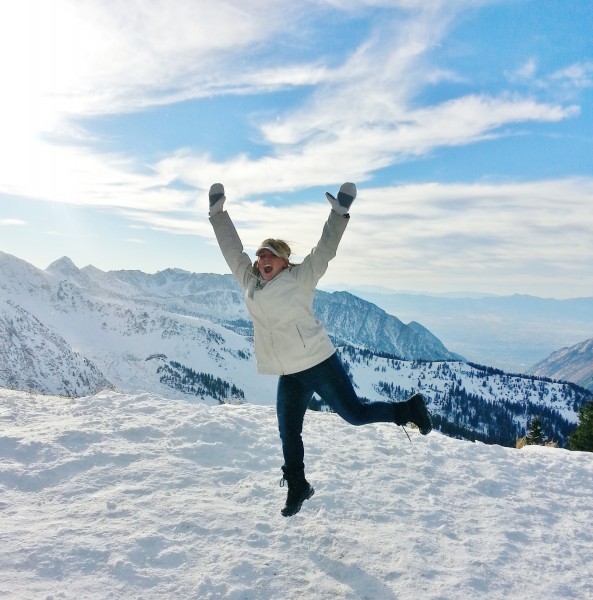 Let me tell you. That's some hard work. Jumping up and down at an elevation of 11,000 feet is NOT the same thing as doing it in your living room. The air was so thin, I was gasping for breath. Totally worth it though.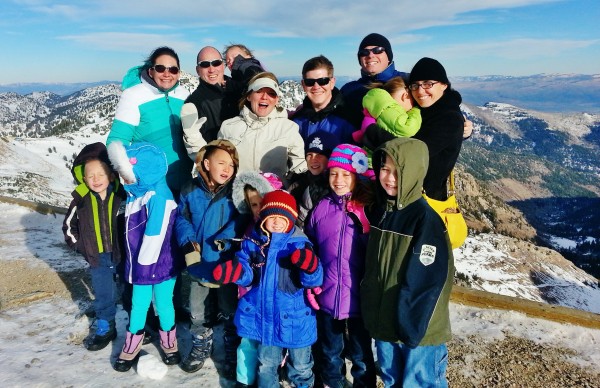 And let me tell you how fun it is to be on the top of a mountain with two of your brother's families and a combined 10 kids when it's 27 degrees and 40 mile per hour winds.  Literally, it's a blast.
As you might imagine, we didn't last too long up there as a group.  We weren't quite ready to head down the mountain when we got off the tram.
Luckily I was thoughtful enough to bring a couple sleds.  I've always wanted to see if I could get away with sledding in bounds at ALTA either before or after ski season started.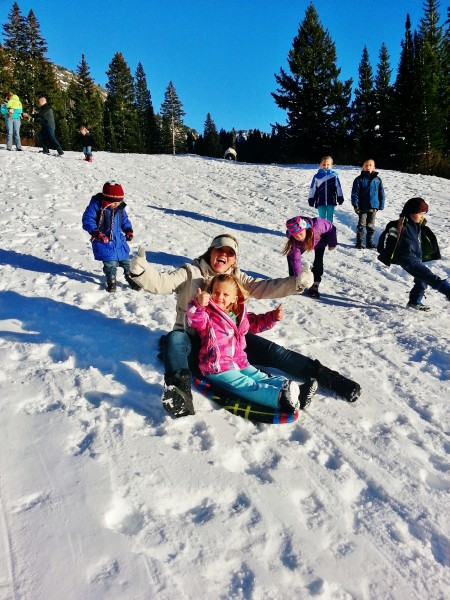 We did it.  And it was awesome.  However,  I wouldn't recommend anyone else try this unless there was a WHOLE LOT more snow then there was that day.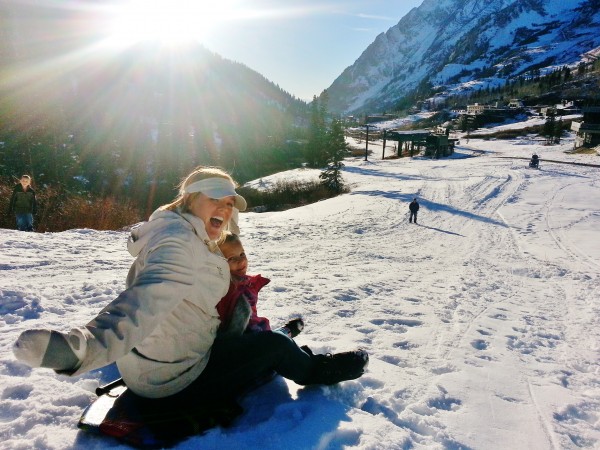 We've skied at ALTA lots of times and I must have come off this very hill 400 times and never, ever noticed that there is an icy little river that runs alongside the hill.  I think when there is 5-10 feet of snow on the ground, the stream and embankment fills up with snow.  But when it's pre-season, there isn't enough snow and it's an icy stream.
And…we nearly lost two 5-year-olds into it. Luckily, my brother who was standing at the bottom of the hill was able to throw himself in front of their sled just as it started to careen off the hillside.  Very close call.  That's why I won't be doing this again or recommending it, but…All's well that ends well and we had a BLAST!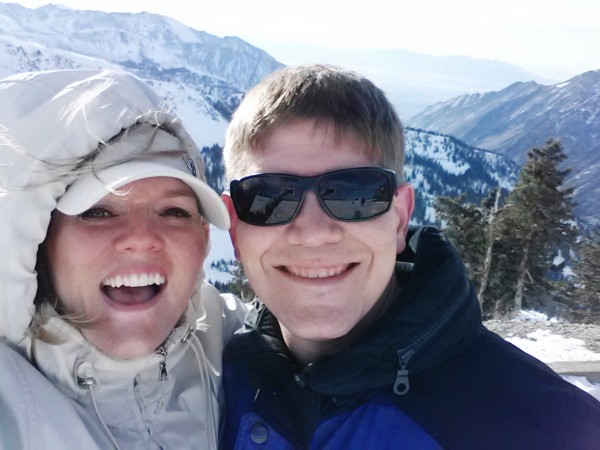 AS if all that wasn't enough fun, we went afteward as a group of 16 to our favorite little Mexican Place for dinner.  Las Glorias.  And everyone liked their food.  Not one of the 10 kids spilled anything or even dropped a fork on the floor.  We all just sat and talked and laughed and had a nice time together.
And that…was my perfect day.  I'd love 100 more just like it.
The end.
Related posts: