One thing I know for sure is I'm not a DIY person.  I'm more of a HSE (Hire Someone Else) person.  Hiring someone is not always an option so I'm lucky to have found a middle ground to help with #153 on the list.
Personalized-Interiors is on-line interior design blog created by a friend of mine now specializing in E-Design.  Clients e-mail room photos and give basic information about lifestyle, personality etc.  For a $75 fee you get an experienced interior designer to assist your DIY project. Brilliant!
Here are my before photos.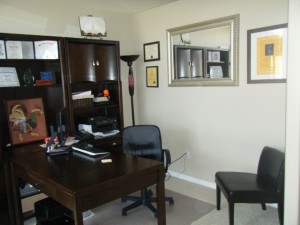 With only these photos, she created a custom design plan.  Next time, I would send measurements of the room and furniture to ensure a more accurate scale.  I wish my office was as big as it seemed in the design plan.
I absolutely loved the colors and design elements she suggested (selected from information I gave about our preferences and lifestyle). See full design plan here (if you haven't already).
I loved the suggested layout, but after 3 hours of moving our GINORMOUS office set and unplugging the computer, printer and all the wifi junk, we discovered that our room wasn't as big as the design plan depicted.  The re-arrangement didn't work.  So by 1:00 a.m. we moved it all back. Don't worry, my husband was a good sport. I was the one who fell apart. Hard labor just isn't my thing.
It was discouraging not doing everything she suggested, but that didn't stop us from implementing what we COULD do.  With a limited budget, we chose the highest priority items.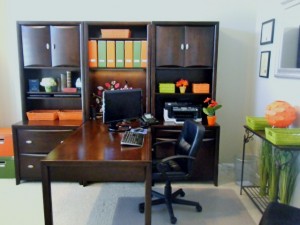 So, here's the after shots.
We bought these darling organizers from IKEA.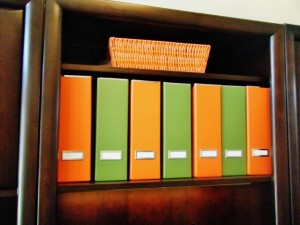 They were just the right colors!  I keep all my kids coloring books, magazines, etc., in them. It's easy access, handy and super cute.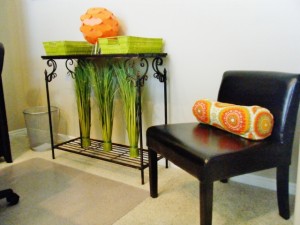 This cute table and fresh looking grass totally hides a massive cable sticking out of the wall. The funky orange lamp also came from IKEA. My designer suggested brightly colored pillows to go on my client chairs.  The ones she suggested were a little $$ and were sold out anyway, so I hit up JoAnne's for some fabric and recovered some old throw pillows MYSELF!
The rest of the items came from Gordman's, a new store that recently opened up nearby.  I'd never been there before, but I came out with about $250 worth of décor for my office. I have to say, as a cheapskate, I really feel like our money went a long way in that store.
My other favorite accents are here: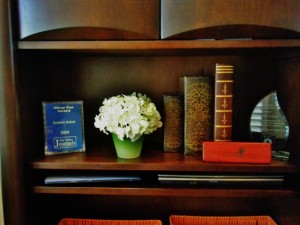 Love these fake books. They're hollow in the middle.  Sneaky! I hide candy from my kids in there.  We also bought a few little potted silk flowers to spruce up here and there.
This is a working office but is located at the front entryway of my home.  I don't want my guests (mostly judgmental 5 and 6-year-old kids) to see all my clutter upon entry.  These green and orange baskets do the trick distributing the clutter.
I love my new home office. So does Sunny.
 I spend significant time crafting words for this blog here, so its nice to have a space I really like to work. It inspires me, but nothing inspires me like my LMFAO PARTY ROCK glasses (back story here)!
Personalized-Interiors helped us with guidance to make this DIY project go.  We could not have gotten to this place ourselves.