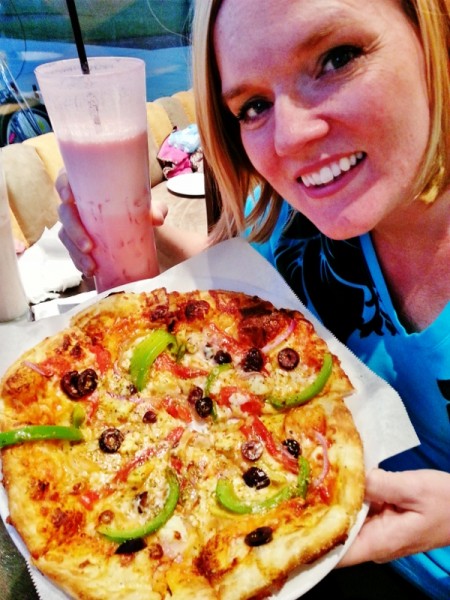 While I was in my twenties I spent a few years living in upstate New York.  I thought I loved pizza before I went, but while I was there I discovered my true love–great, thin crust, New York style pizza.  It might be my first true love. (I didn't meet Steve until after my New York minute)
Since returning I have jumped at any and every opportunity to eat my favorite food.  Over the years I've found a few places close by that come close to making great pizza.  My favorite restaurant was called Nevole's.  It was great almost like being in NY.  Unfortunately, there was some family drama and the restaurant closed cutting me off from great pizza.
Since then I've been looking for a new place to get my pizza fix.  Enter Café Bella Rue located in Daybreak on Soda Row.  I told you about Café Bella Rue a few months ago when I blogged about their fantastic line of Italian Sandwiches. 
Since then, I've spent A LOT of time at this restaurant–because I like it and because it's located across the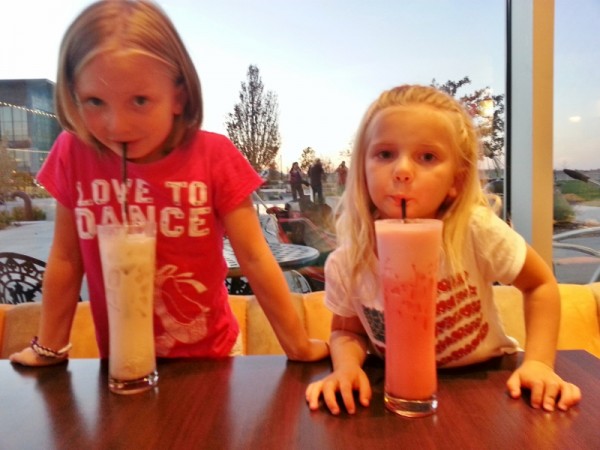 street from my daughter's gymnastics lessons.  She spends three hours a week in the gym and I now spend about that much time loitering or drinking Italian Crème Sodas on Café Bella Rue's comfy lounge.
A few weeks ago I started smelling something SO delicious and familiar.  I noticed some new signage advertising a new line of Thin Crust Pizzas.
Imagine my absolute DELIGHT when Robert Avery, owner of Café Bella Rue, invited me back to sample and review the new pizza line.  After seeing and smelling the other people's delicious pizza for weeks, It was finally my time to enjoy!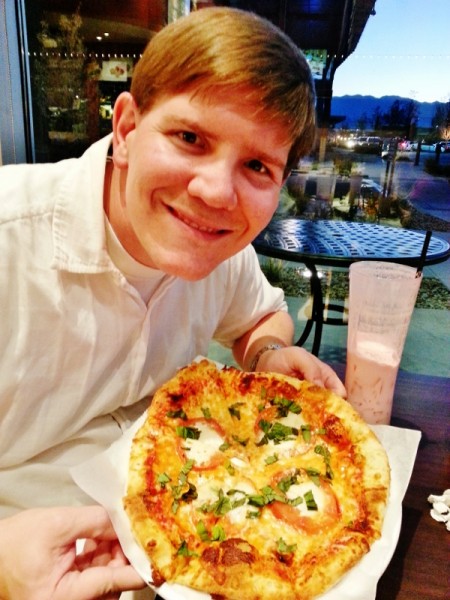 We visited the restaurant as a family on a recent Monday night.  Every Monday they have Mangia Mangia Monday's giving deep discounts on their thin crust pizza.  You'll get their featured Pizza for $4.99!  Also their fountain drinks are only .50 cents!
My girls enjoyed a cheese thin crust pizza. When we arrived at Café Bella Rue I was positively STARVING!  The cheese pizza came first and I couldn't help snatch a piece.  It was delicious!
Steve ordered the pizza margarita, which was great especially if you appreciate pizza the way the Italians take their pizza. It's shockingly good.  Simplicity is BLISS!
My love is veggie pizza so I ordered the Mediterranean Veggie Pizza.  It had bell peppers, artichoke hearts, red onions, mushrooms, green olives and feta cheese. Oh my goodness it was so good!  It was hard not to eat the entire pizza.
I love the personal sized pizza.  It was just the ri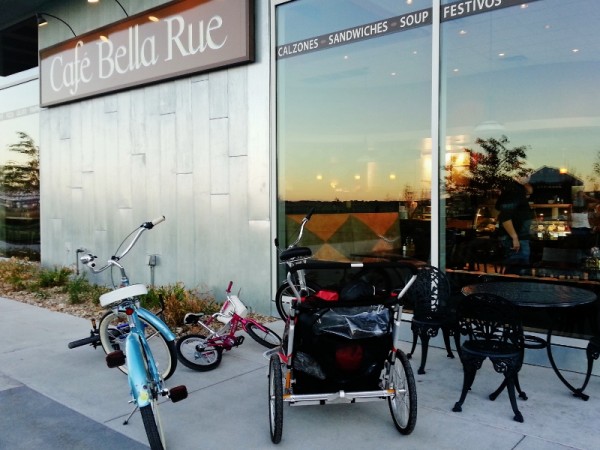 ght about of food for my husband and it would have been for me too except that I just re-started Weight Watchers and I am trying to do a better job of eating the right portions of food.  I happily took home my extra and ate it the next day.  It was almost just as good warmed up the next day.
So here's your call to action.  So if you're looking for a fun wholesome and delicious activity for your family night, give Mangia Mangia Monday at Café Bella Rue a try.  It will be a unique experience at a bargain price.
We sat next to a cute family who was also enjoying the yummy pizza.  They arrived and left on this cute pile of bikes.  The bike ride over must have made for a great family night.
In case you're keeping track, this is number 206 on the list.
Related posts: