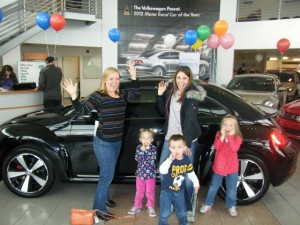 I'm not sure where my kids learned this, but over the last few weeks and months my kids have been enthralled with seeing Slug Bugs on the road. Luckily they haven't started punching each other the way my brothers and I did when we were kids.  They mainly just yell SLUG BUG at the top of their lungs whenever they see them.
At first I was annoyed at the onset of this new hobby with all the random shouting.  But then I realized I was being a mega drag, and ruining all the fun, so I decided to join them instead.  I started yelling out whenever I saw them too.  And it IS actually really fun.  You just can't believe how many Slug Bugs there are on the road these days.
After playing the Slug Bug game over a few weeks I realized I had never actually been in a Slug Bug of any kind. I also realized how much power I now wield as an adult.  I decided, in all my power and authority as an adult, that I would take my kids for a spin in a SLUG BUG!
With that thought in mind, we planned an outing to VW SouthTowne!  We invited our friends Meagan and Bryton to go with us because it's always funner to do stuff with friends.
The folks at VW SouthTowne were super friendly and nice to us. We were helped by a friendly fellow named Mat Howard.  He and the rest of the gang at VW SouthTowne seemed pleased as punch to let our rowdy brood into one of their cute Bugs.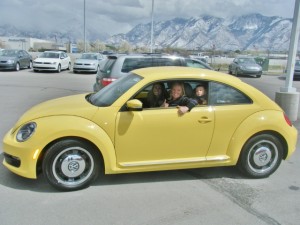 And honestly, isn't it the cutest dang thing you've ever seen?  And really, this might have been the funnest thing that has ever happened to my kids.  It was like Christmas morning and walking into Disneyland all at once.  Maybe my kids are easily impressed, I don't know.
We took turns driving the cute car.  Let me tell you, this little thing really moves!  The three kids had a great time getting all jostled around in the back seat.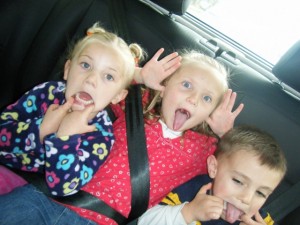 It really was a riot!  I hopped out of the car to get a video of Meagan hot-rodding around an empty parking lot.
What you don't see in the video was us doing consecutive donuts around and around and around in the parking lot.  This thing has a serious turning radius.  It was almost like it was just spinning like a little top.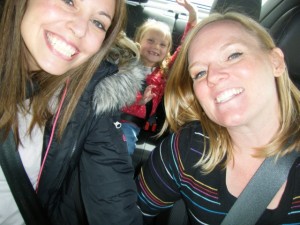 The kids went crazy and insisted that we keep turning in circles.  They got mad when we stopped.  You should have heard the laughs and screams we were all making inside that little car.  It was the best, most random fun I have had in a long time. It's for sure one of the best things on the list.
After having our way with the little car, we graciously took it back. 
They greeted us in the parking lot and immediately the kids spilled the beans that we'd been goofing off in the car.  "We were spinning in the car and we tipp-ed," Bryton said.   Luckily, the sales guys just laughed and were glad we'd had a good time.
In all we had a fantastic time driving bugs.  I might consider getting myself one if my husband hadn't specifically told me NOT to buy a Slug Bug today and if I did, that he would NOT be the one who drove it and that I'd have to trade my van for it.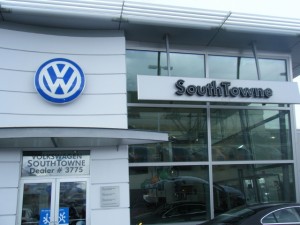 But if I were to buy a Bug, I would for sure buy it from Mat Howard at VW SouthTowne.  If you're interested in talking to Mat, you can reach him at 702-502-6080 or at Matjack2118@gmail.com
Related posts: