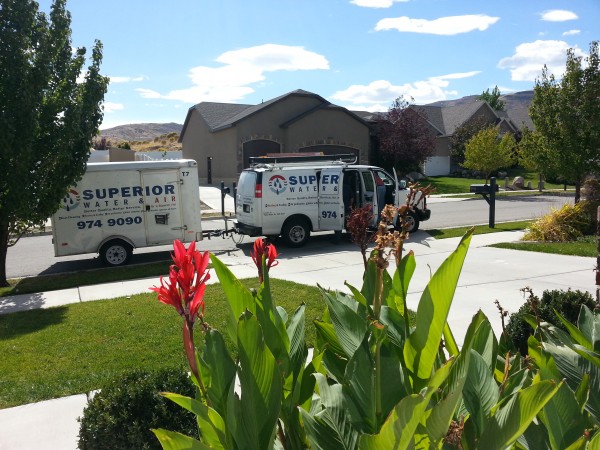 I remember almost 8 years ago when we bought our home being so EXCITED to move in.
The first second we got keys we drove to our new home and walked in expecting to be thrilled it was ours.  Instead, we were terrified. The kitchen floor was a small pond.  Five minutes later, we flushed the toilet for the first time and it began to overflow.
It was then that we realized that home ownership isn't always a fairytale.
Over the years we've had things go wrong with the house. We've had furnace problems, replaced the water heater, and had some minor plumbing issues.  Each time we always panic and then come to our senses and ask around for a reputable service provider.
I recently called Superior Water and Air to come out and give me a bid on cleaning my air ducts. We've done a lot of construction this year, including all new floors upstairs and I know my vents must be disgustingly dirty after all the construction and living here 8 years.  Imagine how much dust you'd have or debris on the floor if you never swept or dusted.
As a free service, they cleaned my dryer vent while they were there. I was surprised at the amount of fluff they blew out of my vent.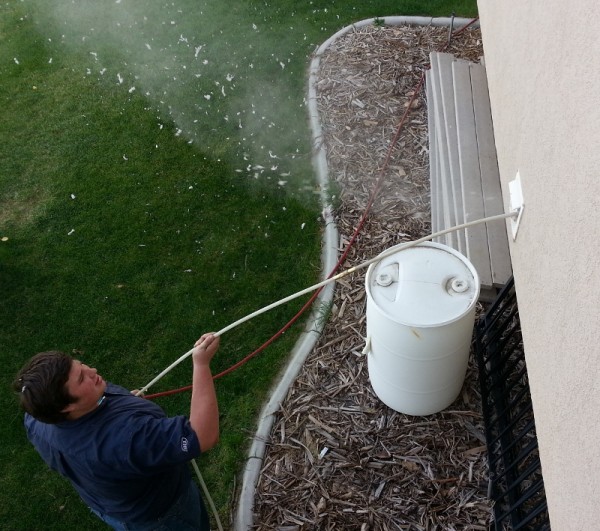 We are religious about cleaning the lint trap on our dryer, but despite our best efforts it snowed like a blizzard as they cleared it out.
The technician Tyler told me my vent was fairly clean compared to most he's seen.  That's a frightening thought.  No wonder clogged dryer vents are one of the leading contributors to house fires.
While Tyler was clearing my dryer vent Carl worked up a bid to have my air vents and main lines cleaned out.  The price for air duct cleaning depends on how many vents you have in your home.  I have 17 vents and 3 air returns.
I should mention that although Superior has NOT paid me to write this post, they have offered me some free and deeply discounted services in hopes that I would have a positive experience and positive things to say about their organization, which I have.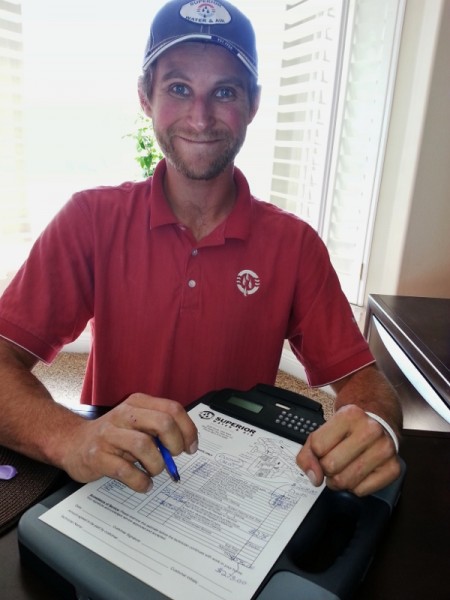 The more I learn about Superior, the more I like them.  I especially like their business model.  They'll be the first to admit they are NOT the cheapest provider in town.  But…they'll also tell you that you'll get the most for your money and you'll NEVER have to worry about being ripped off.
The owner of Superior Rob Anderson explained that most of the large HVAC and plumbing companies in town pay employees on commission.  They have a base price point, but whatever they can actually get the customer to pay beyond that price becomes their paycheck.
So…if they think you're an especially big sucker, you'll get stuck with an especially BIG bill.  As a result of the crooked pricing scheme, these companies tend to have a high employee turnover.  Only those who are especially good at being dishonest get paid well.  The others quit.
Superior offers set pricing.  Because of that they retain their employees for a long time.  The two men who provided my service have worked with the company 4 and 1.5 years.  Both were super friendly, talkative and helpful.
I'm excited about the relationship I've established with Superior.  I know that when I have an emergency or a need to have some service performed like vent cleaning, I can get Superior's reputable people in my home without worrying about being ripped off.
I hope this has been useful info on finding good contractors to work with. There's nothing I hate more than paying WAY too much for something because I don't know how much it's supposed to cost.