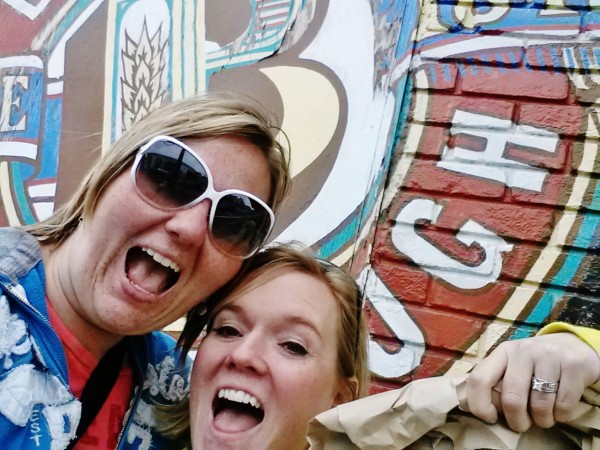 (If you haven't read about my trip to  Bonnie's wedding in San Francisco you might want to read that before you read this post.)
After the wedding we headed off into the sunset to let the bride and groom be married and let the family clean up the party(suckers). After 48 hours of complete stress, sweat, and hard work, we were ready to tear up the town. And by tear up the town I mean go to the hotel and go to sleep immediately.
We took a wild and crazy ride after the wedding to check into our hotel.  The ride wasn't meant to be wild or crazy, thanks to some bad driving on my part (despite having good navigation) we ended up going the wrong direction crossing the Bay Bridge in a Bus ONLY lane. That's a bad thing.
Not wanting a big fat ticket on the other side of the bridge we pulled over and regrouped.  We made a quick (illegal) maneuver and crossed the bridge in a more appropriate lane.
We got off the first exit onto a tiny little island where Google Maps told us we could turn around.  It was wrong though, because after driving around for 15 minutes on the tiny island we discovered that we could not.
The good news is we were able to pull over and snap this incredible photo of the bay bridge at night.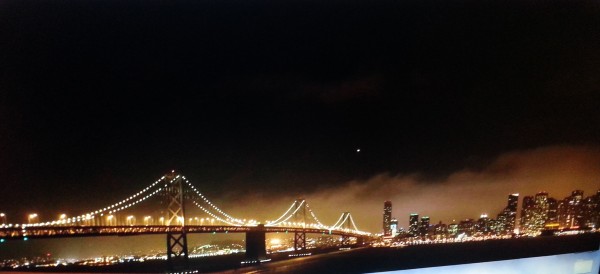 So we just pretended that was our plan all along. Isn't this the coolest photo!  We totally meant to do that.
After two hours on the California freeways, a trip that was supposed to take 45 minutes, and crossing countless bridges, each with a $5 toll, we arrived at our hotel, totally exhausted. It might have been one of the best nights sleep I ever had. I didn't even stir until 10 am the next day.
With only one day to see all of San Francisco we hatched a plan to see Muir Woods, The Golden Gate Bridge up close, eat some fresh Sour Dough Bread from Boudin Bread Bakery, and eat and authentic Chinese dinner.
The following photos prove that we made it all happen!
First stop, Muir Woods.  Have you ever been there?  It's kind of AMAZING!!! The trees, they're are ridiculous!  Seriously.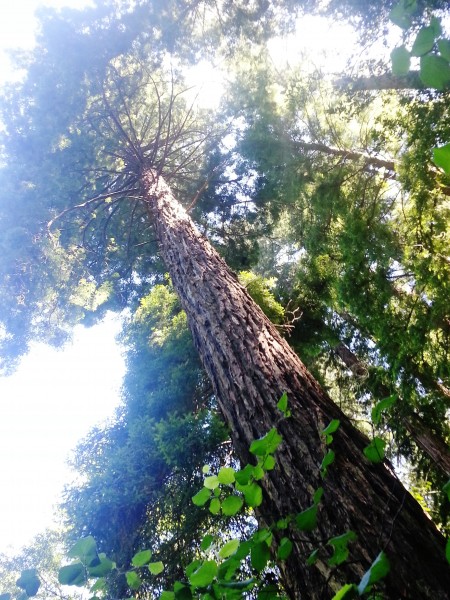 After being there an hour or so I started getting motion sick from trying to see the tops of the trees.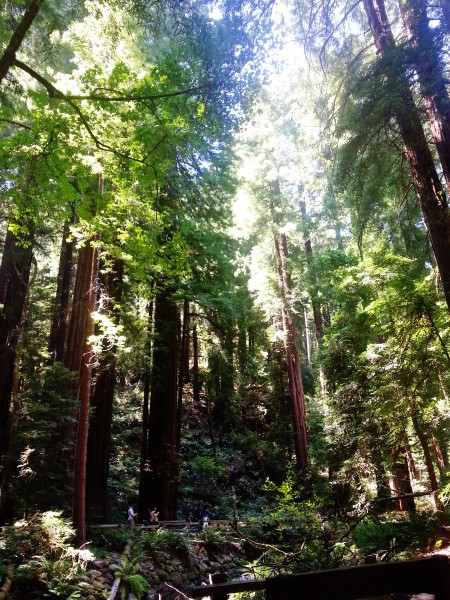 These trees are tall.  They're tall like a sky scraper. Can you see the little people in comparison with these trees?  For reals.  Tall trees.
Despite how many people were there, and there were SO MANY, the grove was very quiet. 
That either because the people were in awe or more likely, there was just so much foliage that it just absorbs all the sound.  It was really cool.  It kinda reminds me of skiing and how quiet it is because the snow absorbs all the sound.
We totally loved it there.  It was nice and cool too.  I wouldn't wear shorts.  I was really glad I had my sweatshirt. It was the perfect temp all bundled up like that.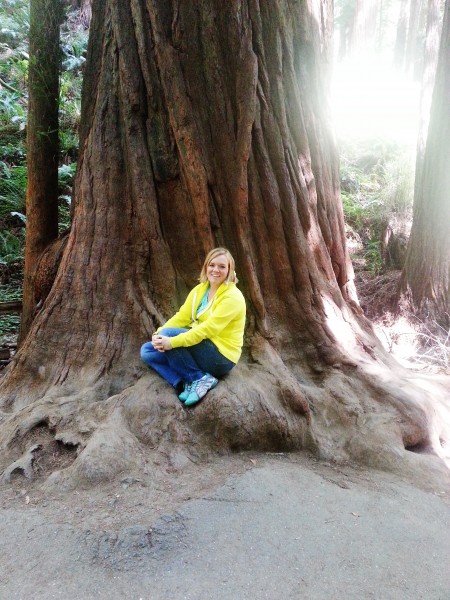 Also, if you're ever planning a trip to Muir Woods, if you go on a weekend you will likely have to take the shuttle because the parking lots fill up if you go later in the day.  And…it's like a 40 minute bus ride.  And…on your return trip, plan on waiting a while for a ride back.  We waited about an hour in a line for a bus ride back to the car.  It sounds worse than it is though.  If you have a snack and a good friend to shoot some jokes off to, you'll be fine.  We loved being at Muir Woods and brought home a REALLY COOL prize.
After our half-day adventure to Muir Woods (that really is how long it takes) we headed towards the city on the Bay.  We intended to go right to the Bread Bakery I love so much, but got distracted by this…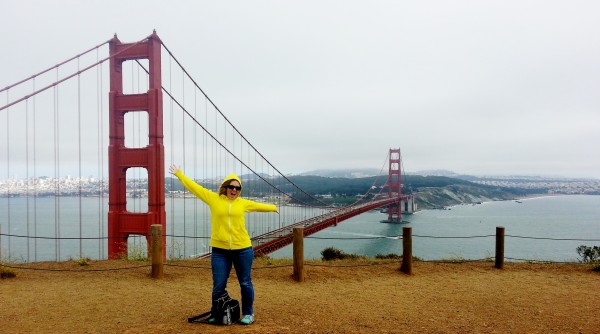 It's the Golden Gate Bridge in case you were wondering.  It was my first time seeing it to and it was magnificent.  You just can't believe the size of these bridges!  Look at how teenie the cars are on there.
We made the most of this bridge sighting.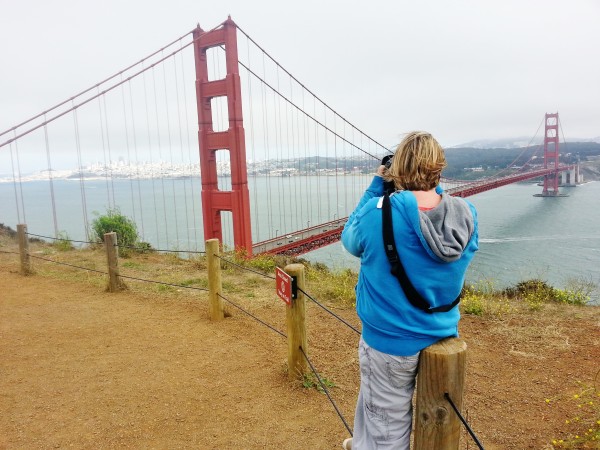 I'm sure Heather's photos are a bit more fantastic than mine, but you know…this is what I have so this is what you get.  By the way…IT WAS FREEZING!!!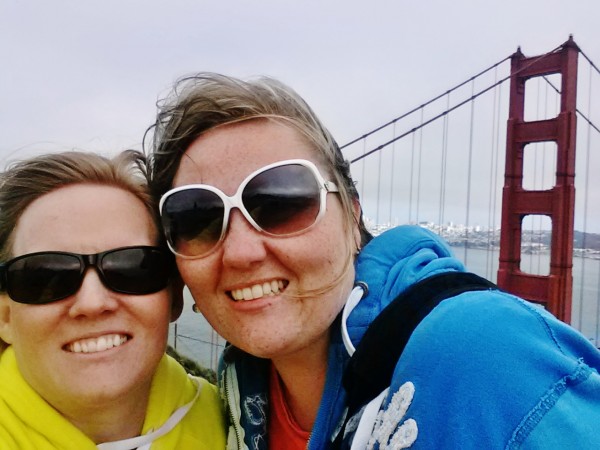 It was like, the really unpleasant kind of freezing. So…if you do this, take more than a sweatshirt if you're going with a photographer who is going to want to stand out there and shoot photos in the 40 mph winds for an hour.  I'm sure that's why I look like I'm having such a great time in this shot.
After I convinced Heather it was time to move on we crossed the bridge and headed into the city for some HOT, FRESH sourdough bread.  The kind that you can only get when you're in San Francisco.   I was a little worried that since it was so late in the day and it was a Sunday that the Boudin bread shop might be closed.  And when we arrived, paid to park and walked to the store front, my fears were confirmed.  Closed.
But…next to the little breadshop was the actual bakery where the bread was baking.  There was a garage door open about three feet up…So, I got on my hands and knees and shouted.  "Can anyone hear me?"  A minute later a worker came to see who was calling.  I calmly explained that I had come here from Utah to get bread and that they were closed.  I asked if I could still buy some and he told me there was a location open at Fisherman's wharf.  I explained that we weren't going down there and could I just snag some here and I'd be happy to pay whatever price.
He left for a minute, and Heather snapped this picture.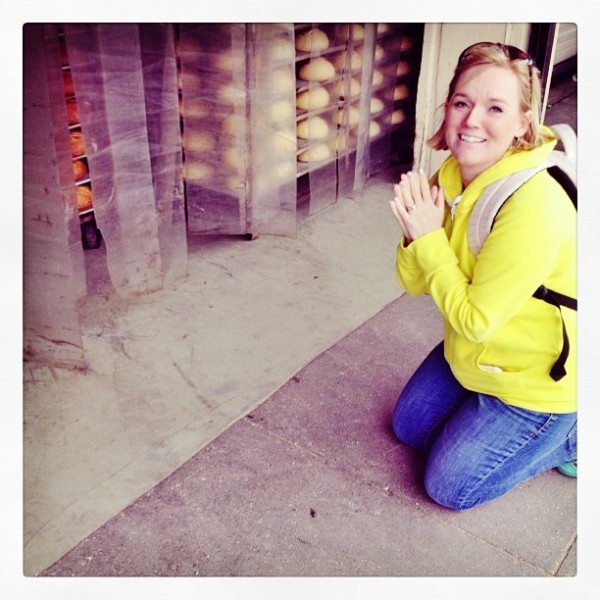 Do I look desperate?  I was.  Steve's only request was that I bring back some Boudin Bread for him.  I thought I might have blown that chance.
Luckily the worker returned and said that they didn't have any bread left to sell.  He asked if I would be interested in any of these "chowder bowls."  I quickly replied that I WANTED them!  So he scraped up 5 hot steaming loaves and put them in a big paper bag for me.  He told me that next time I was here I should tell them that I owe for 4 chowder bowls.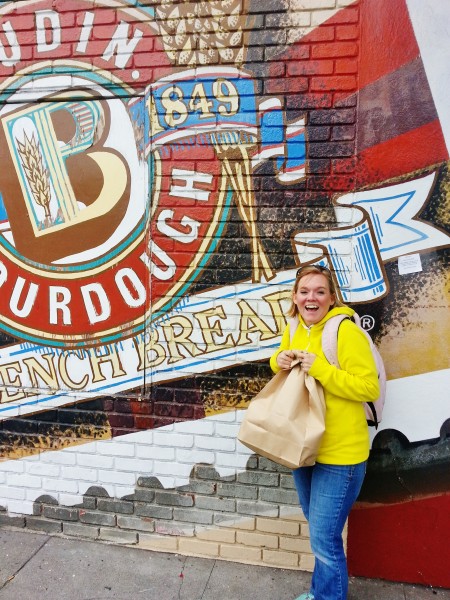 No person has ever been as happy as I was at that moment.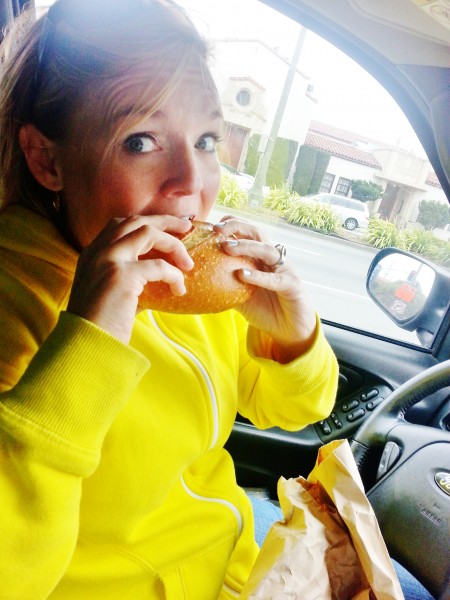 Except for the moment that I started eating the bread.  I think I might have been even happier then.  It was seriously so delicious!
The last thing on our list was to get some great Chinese Food.  Unfortunately, after eating a loaf of Sourdough bread, neither of us were all that hungry, but we didn't let that stop us.  We just did a little shopping first and bought some fun things for our kids and then headed for Chinese Food.
We were in some kind of China neighborhood.  Not, THEE China town per say, but a "China town" for sure, meaning were were some of the few non-Asian people there.
We used Google maps and located a Chinese Restaurant nearby that had great reviews and headed inside.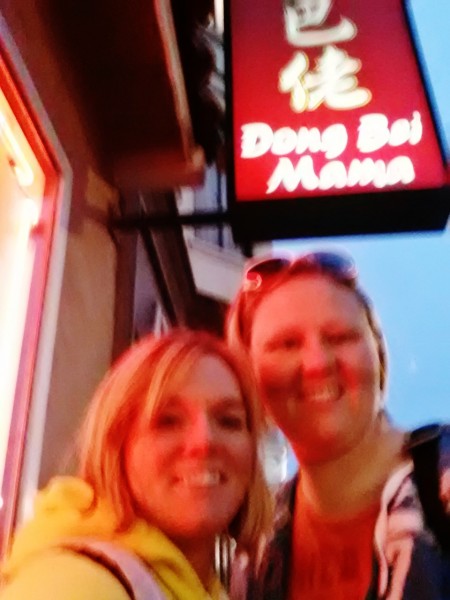 We were quite tired at this point.  It had been a long weekend of wedding, work and a day full of sight-seeing.  We were glad just to have a place to sit down.  The blurry pic matches the tone of how we felt.
As you can see from this photo, we were the ONLY non-asians in this place.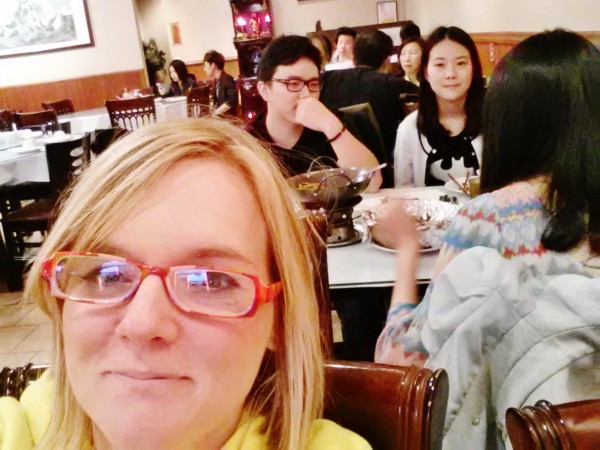 AND…The food was incredible.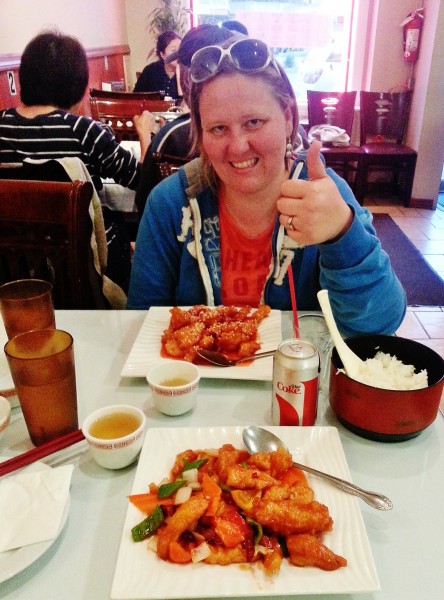 They served us tea and white rice with our meal and even though we weren't all that hungry, it was still completely delicious and just what we needed to end the trip!
After our last supper, we headed back to the hotel.  This time we were experts and navigating our way there and had no problems.
We packed up our bags and went to bed.  Our 6:30 a.m. flight went off with out a hitch.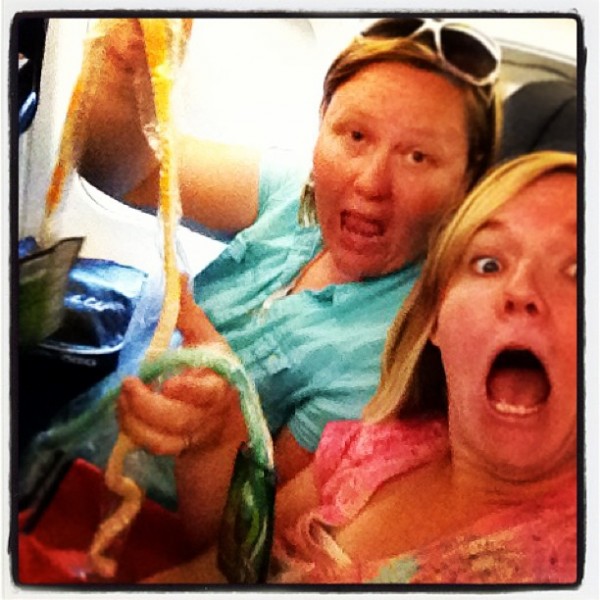 Well…there were SNAKES ON THE PLANE, but they were pretty non-threatening since they were gummy and delicious.