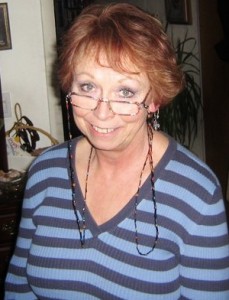 Let me tell you about a little lady from East Texas that totally changed my life.  Her name is Noreen  Rylander.  I worked with "Reenie" for more than 5 years at a Home Healthcare office while I was working my way through my college.  She was an RN and I was an office clerk who processed her (and others) paperwork.
Reenie was different from any person I had ever met.  She was loud and proud as you would expect someone from deep Texas to be.  She was also as sweet and caring as one person could be.
Because she was SO different from anyone I have ever known, I learned many NEW and exciting things from her.  Most importantly I learned to look at the world differently, maybe not through Rose Colored Glasses, but certainly in a new and beautiful way.
She gave me great life-advice and taught me about the Universe and how it works.  She taught me to calm my sarcasm and never to speak negatively of myself or what I wanted for the future.  I've always considered myself an optimist but, I never realized the negative things I said about myself and the world around me.
Reenie taught me that the Universe is ALWAYS listening and only hears the positives in what we say. It doesn't process the CAN'T and DON'T in our statements.  For instance, I used to say things like… "I really DON'T want him to break up with me!"  If she heard something like that slip out of my mouth, she'd stand up at her desk and shout at me from across the office.  "Don't call that S#*T down on you!"  Another example, Me: "I hope I DON'T screw this schedule up this week."  Her: (again shouting from her desk) "Don't don't call that S#*T down on you! The Universe can only hear that you WANT to mess this schedule up!" I really learned to watch what I said around on her.
It took several years, but I changed the way I behaved not just around her, but always.  I stopped speaking that way.  I honestly believe that dropping the negative vocabulary has brought me better fortune.  I'm not a superstitious person (I totally am) but, there IS something to this.  The Universe WILL bring you what you ask for as long as you do your part to accept it.
I still cringe when I hear people say negative things about their own outcomes.  If I've ever corrected you, it's because of Reenie.  I hear her voice so loudly in my mind when I listen to people talk like this.  I learned this from her WAY before Oprah and her "Secret" came out.  It's the same principle, but without the corny documentary.
The other thing I really admired about Reenie is she knew how to have fun. She was probably the only grown-up I'd ever met that made her fun and entertainment a priority in life instead of just a happenstance.   She always drove a sports car, always believed in dating younger men, and knew what it took to have a good party.
While we worked together, she remodeled the bathroom of her early 1970's split level home into one you'd expect to see in Buckingham Palace.  It was amazing! She installed a huge forest green bathtub big enough for three people.   She put in beautiful new brass fixtures, a hardwood floor and an amazing vanity.  Yes, it cost her some money, but she really wanted and REALLY enjoyed it.
Her bathroom remodel spoke volumes to me about working for something you want and then really enjoying when you have it. Splurging is a beautiful form of art.  I've known tons of people who practice parts of this principle. They'll save money for years and years and never enjoy any of the money they've carefully saved.  I've also known people who spend tons of money they DON'T have on things that are really enjoyable, but in the end can't afford.   Also, not as fun.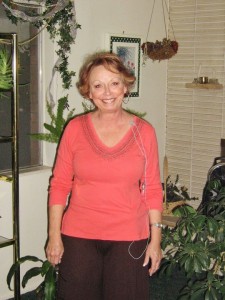 Another daily joy she had in her life was the jungle in her living room.  I'm not even exaggerating when I tell you she had 50-100 plants growing in her living room.  She had ferns, and vines woven through her banister, flowering plants, beautiful shrubbery and all kinds of other green things.  She took great care and great pride in her work.  It was a joy to her and to people like me who saw it.
My life has forever been changed by her influence. I'm not sure who I'd be if it hadn't been for her transecting my life while in my early twenties.