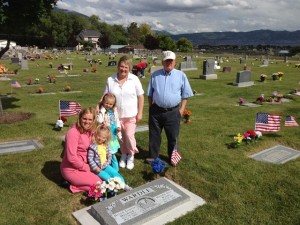 Happy Memorial Day to everyone.  I love Memorial Day not only because it's the summer kick-off, but because it's an opportunity to recognize our fallen heroes and remember the loved ones we've lost.
You might not think of visiting a cemetery as a Pleasant Event, but it really is very beautiful especially this time of year.  It's colorful around Memorial Day.
We met my parents there and brought the girls.  They loved seeing the headstones and hearing Grandma and Grandpa tell stories of aunts, uncles and grandparents that had passed on.  It was a peaceful moment.
Hope you all had a great weekend, did some fun things and remembered your loved ones.
Related posts: