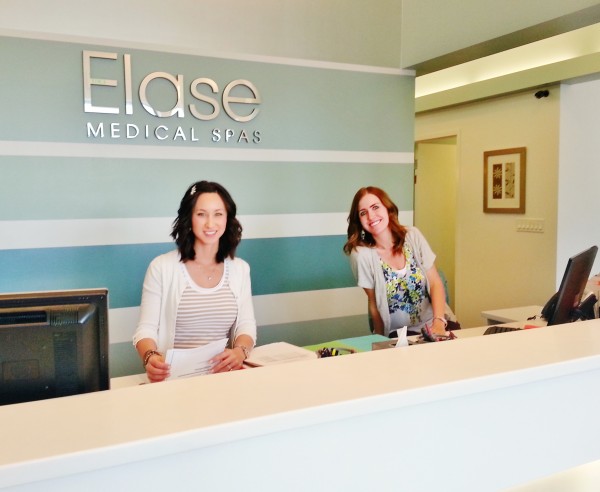 In case you missed it last week, I'm working with Elase Medical Spa to bring you some adventures in magnifying your beauty through spa services.
The thing I am most excited about in this partnership is trying laser hair removal.  This is something I've been curious about it for years, but I heard it doesn't work well for gingers like me.  Plus it always seemed expensive so I never really looked into it.
After learning more about the procedure, I can tell you the honest what-what behind laser hair removal.
Fact: Laser hair removal works best on darker hair and lighter skin.  The laser seeks pigment or color.  If it can find none it can do nothing.  SO blonde, reds and greys…Laser hair is not for you, except under your arms and in other more…intimate places.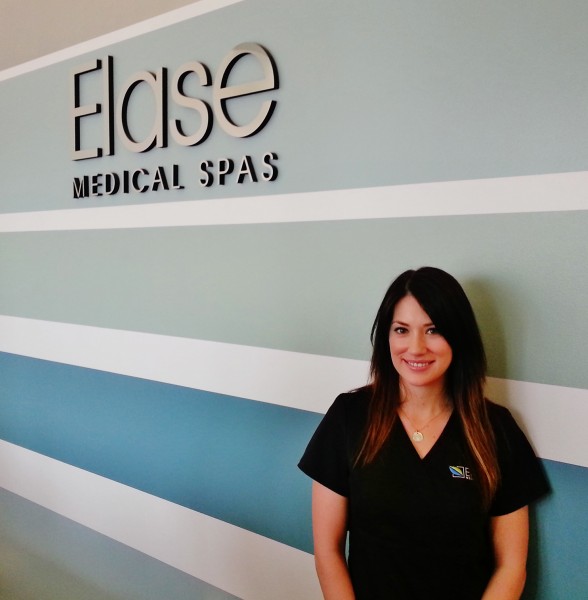 I am a swimmer. I love to swim. I usually leave my swim suit in the car and like to swim a mile or so in the pool a few times a week.  I usually take no thought as to when the last time I shaved was until I'm changing in the locker room and all of a sudden I'm feeling very…French (aka hairy armpits).
This is where laser hair removal becomes useful to me.  It can't do much to smooth the prickles of my blonde leg hair or eliminate peach-fuzzy upper lip but it will help me avoid embarrassment in the pool. YES!
Last week I headed to Elase in Draper.  Per their orders, I was clean shaven when I got there.  They warmly greeted me before I headed back to the treatment room.  It felt just like a MD's office, but pretty and more Zen.
Since I had on a short sleeved shirt, and didn't even have to take off my top.  She just had me pull my sleeve around while she took care of the entire area.
It was painless.  The laser machine pulses the laser light at your skin and an adjoining nozzle blows ultra-cold air at the same the time, so you don't even feel any heat. It really is rather easy. The toughest part is tolerating the cold air.
As a swimmer I am also having them take care of the few strays close to my bikini line and inner thigh. I opted not to share any photos of this. You're welcome.
It's going to be SO nice to have all the hair gone!
Most Laser Hair treatment facilities sell packages of 6 sessions.  From my own research and from what I've learned from the experts at Elase, it really takes more like 10 treatments to get permanent and lasting results.
Elase smartly offers year-long memberships which allow you the flexibility to get as many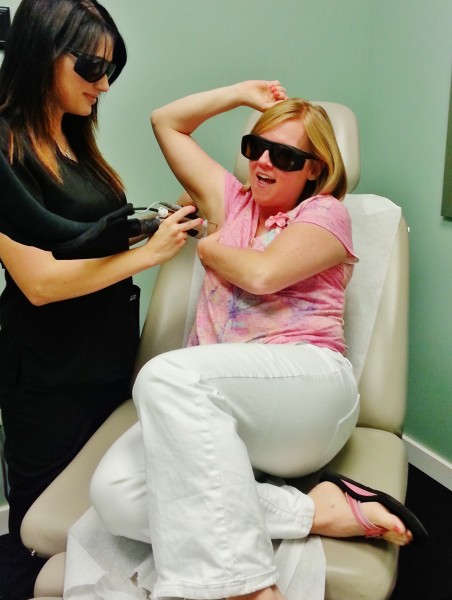 treatments as you need to get great results.   If you don't need that many treatments, they also offer treatments ala cart and have monthly specials.
Typically, clients visit about every 5 weeks for a treatment.  Each hair follicle is in a different growth cycle, so over a year's time each follicle can be zapped during it's growth phase.  See the FAQ's if you want more detailed info about how it works.
After my visit, I now know that Laser Hair Removal is surprisingly pain free, fast and very easy. It took less than 10 minutes for the whole appointment.
If you're considering laser hair removal, I'd highly recommend looking into Elase. When I researched their spa, I found mostly favorable reviews and saw that it won Utah's Best of State Award five times. I had a great first experience and am looking forward to carefree swimming for a long time!
If you're somewhat interested, consider liking the Elase Facebook page to keep yourself informed of the monthly deals and any special offers.  I'm totally counting this as # 87 on my list.
Related posts: