This one is for the Survivor fans!  Also it's for the ladies who are inspired by other tough ladies.
To be honest, haven't watched Survivor since the first season 10 years ago, but I had the privilege of meeting former contestant Dawn Meehan of Survivor South Pacific which aired in 2011.
She's also an English Professor at Brigham Young University.   Her story was one of the most unique and inspirational stories I have ever heard.
Ten years ago,while driving to work, she noticed a big traffic sign blinking a message that said: "Open Casting Call for CBS Survivor."
She didn't know anything about the casting, but thought it sounded interesting, so she followed the sign and ended up interviewing with the casting crew and got several call backs, but was then cut. They told her they'd keep her application on file.  Ever heard that one before?
Five years later, they called her back, but she was not cast.  Another four years after that she was called again by the crew and was finally cast!  She was one of 18 players in Survivor South Pacific.
At 39 years-old, when asked about why she wanted to do this she said… "This was my Olympic Games.  I liked the feeling I got when I thought…Could I do this?"
Before the show, with the help of her husband and six adopted children, she trained. Hard.  As the show began taping she was in the best physical condition of her life.  "I trained, and I knew I was capable of doing well," she said.  "I learned that you really can pursue a goal and attain it."
Dawn went on to show the world just how strong a 39 year-old woman could be.  She won two challenges including one where she outlasted every other player holding 140 lbs for 90 minutes.  I have some experience holding a 15 pound dumbbell, and let me tell you, it's tough.
The stories about her experience were incredible and it all happened as a result of saying yes and following a crazy whim.  Her success is a lesson to live life in the present.  Do the things that are available to do now.  You can catch up on laundry later.
Her other take-away is this.  "Survivor simulated life.  Set a goal, surround yourself with people that support you and then, face your challenges," she said. "It doesn't matter if you succeed; the challenge is being willing to face what comes."
She also shared a few other things about human nature worth repeating.  First, you don't need that much food to live.  She talked about what it was like to find or kill ALL your own food. She said she performed surprisingly well despite the fact that she had very little to eat.
The other thing she mentioned was you CAN live without make-up, but you really DO need deodorant. She related that she never saw what she looked like while she was on the show and worried about cringing at herself while watching the broadcast.   In the end she was pleasantly surprised.  Deodorant however, was the item she said she wished they all had.  Apparently the film crew was grossed out by the sweaty island bodies.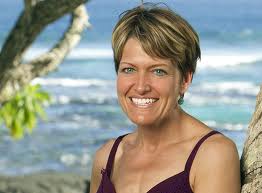 I can't even begin to imagine the kind of guts it would take to sign up for an experience like this.  After listening to her, I guess we owe it to ourselves to at least "imagine" what it would be like to face a challenge like this.
Next time you see an invitation for a challenge, follow the sign.  You might be surprised at what you CAN do.