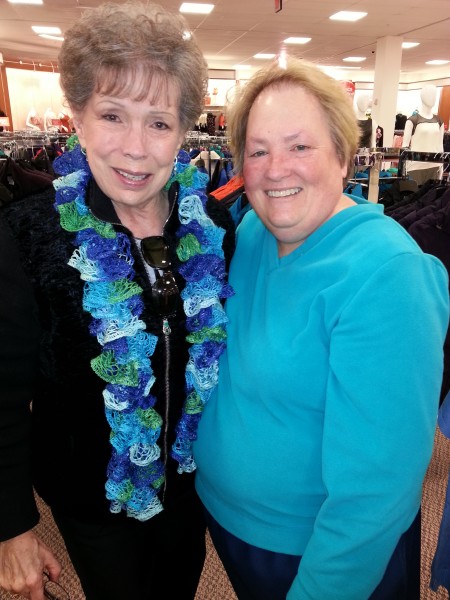 So I was out shopping a few days ago with my mom when we had a very touching experience and made a new friend.
Earlier this week I was returning a pair of pajama pants my mom had bought for Steve.  He needed a different size and I also wanted to see if they had another jacket like the one my mom had given me for Christmas.  I LOVE it and have been wearing it every day since I got it.
It's a coral colored pink, my favorite color.  I wanted to see if they had a aqua colored one, my other favorite color.
As I stepped up to the register to make the return on the pajama pants I noticed the person before me had returned something that was a beautiful aqua blue color.  I asked the cashier if I could see it.  Sure enough, it was the same jacket I had and wanted to buy. It was even the right size and the right color and there wasn't another one like it left in the store.
I was so thrilled and took it to mean that the Universe was very happy with me today, because besides that, I had several bits of good news that day.  I took the jacket and went into the store to find another size pajama pants for Steve.
We quickly found what we were looking for and since we didn't have much time, we hurried back toward the register. As we stood in a very short line, the woman behind us noticed my mom's scarf.  My mom's scarf is beautiful.
It was made my a lady she's helping on her LDS inner-city service mission.  She's a single mother from Peru. She has two children and is suffering from stage 4 Breast cancer along, with bone and liver cancer.  Since her English is poor, my parents are seeing that she gets the medical attention she needs in a timely manner.
As a thank you for my mom and dad's help, she made this beautiful scarf for my mom.  I've never seen so much detailed workmanship.  It's absolutely beautiful.  My mom loved it so much, that she hired this little lady to make one for  me and my five sisters-in-law for Christmas.  Every time I wear mine, I get lots of comments.
Anyway…as we were standing in this little line at JCPenney the woman behind us leaned over and commented to my mom about how much she loved the scarf.  The cashier overheard and said how she had been admiring it too.
The women asked my mom if she'd made it and she explained she'd gotten it from a friend who had cancer. The woman behind us leaned in to my mom and told her she'd just come from her MD's office and had just gotten a diagnosis of breast cancer and she'd be having surgery this Monday and she'd start radiation after that.
We were all a little stunned.  I'm not sure what she was doing at JCPenney, but I guess a little retail therapy was her first line of defense by distraction.  I don't know.
My mom leaned in and gave her a big hug and told her she was going to be alright. The woman hugged her back and said.  "I know, we're going to fight it."
We finished our purchase and headed out to the car.  As I buckled my seat belt, my mom said.  "I need to go give her my scarf!" I looked at her puzzled.  We were already in the car.  I told her, "you don't need to do that, she probably won't even take it from you."
She returned my comment with, "but I can get another one and she needs to know, especially today, that people love and care about her. She just found out today that she has cancer."
So mom hopped out of my car and went back into the store only to come out quickly.  "She's gone," she said as she got back into my van.  I said, "wouldn't I have seen her come out of the store? I bet she's still in there shopping."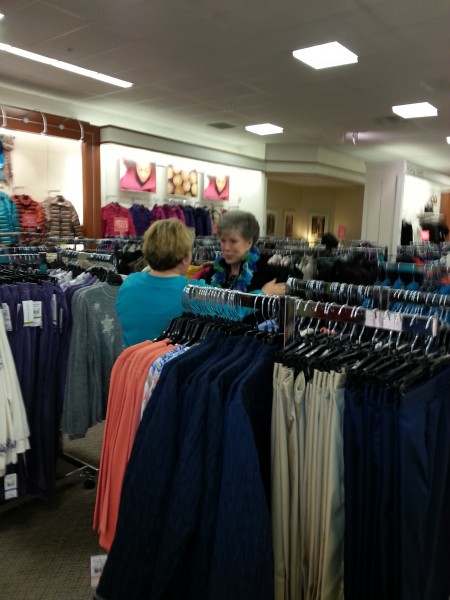 So my mom hopped back out and went into the store.  I went and re-parked my van. I knew my mom would find the woman this time.  And she did. I got there just in time to snap this photo.  My mom took her scarf and laid it around the neck of this woman and told her this.
"I just want you to know that people love you and care about you and that Heavenly Father is aware of you and will take care of you and your family."
The woman, my mom and me were all in tears.  She said this to my mom. "You've touched my life forever. This is so kind. I'll remember this for the rest of my life."  She also told my mom she didn't need to do this, but that she LOVED the scarf and would cherish it always.
It was a very touching experience to be a part of.  My mother continues to teach me the importance of loving one another and loving your neighbor as yourself.  I was so glad to have shared this experience with my mom.
We wish this woman all the best in her fight with breast cancer.
Related posts: