Monday I posted about doing something scary. What was the scary thing? Answer: Getting Botoxed!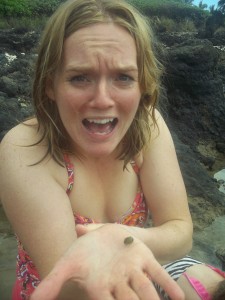 You'll notice in the photo to the left, the crazy number 11 lines in between my eyebrows. I call them my grouchy lady lines. I see them in every photo and every time I look in the mirror.
For the last few years, I've noticed that they're leaving permanent wrinkles on my skin whether I am scowling or not.  This is not okay with me! I don't wish to look grouchy all the time as I am a happy lady.
Enter Reviv Medical Spa.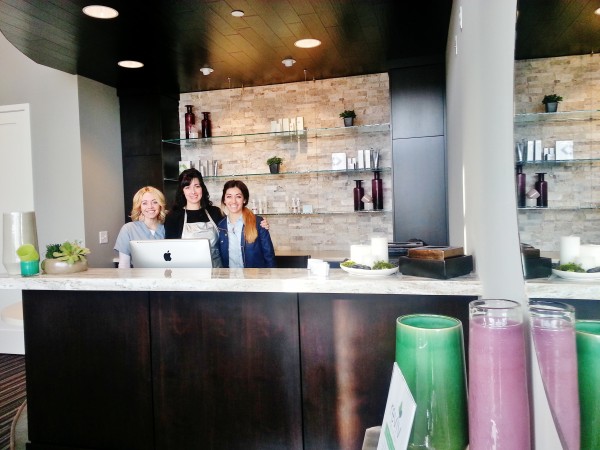 They contacted me several months ago about trading some services for a blog post.  I happy accepted their offer.
They're brand new in Herriman and just started seeing patients last week. Their grand opening party is Friday January 25th from 10am-2pm.  They're offering some KILLER deals for new clients.
For 4-hours-only they're offering some unheard of deals on some very popular spa treatments and products.  Check out their Facebook page to see all the special offers.
In January, they're offering a FREE laser hair removal treatment.  Seriously…Free. You should know that it takes more than one treatment to be completely get rid of unwanted hair, but this is a great way to check out laser hair removal and see how it would work on you. If you like it, they'll be offering half-price Laser Hair removal packages during the Grand Opening Event!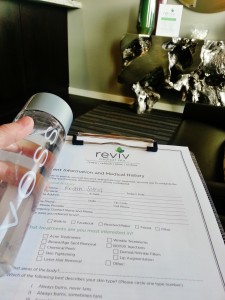 As part of my complimentary package I received a very relaxing facial before the Botox.  The whole experience was a little out of this world.
As I walked in, they warmly greeted me.  I sipped my complementary chilled bottle of water as I filled out my relevant medical history.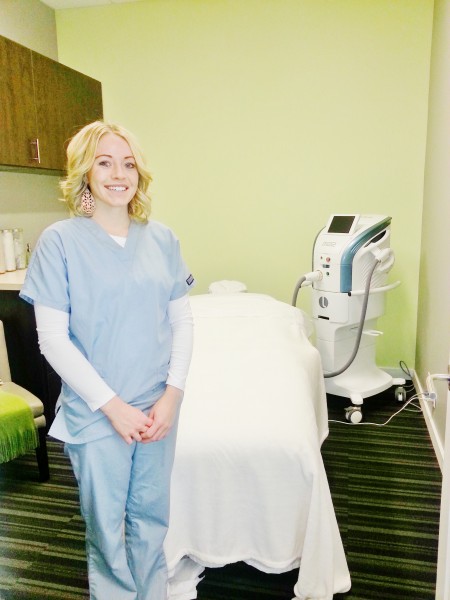 Once that was done, they gave me a little tour of their elegantly decorated facility.  Their staff was just as impressive as the interior decorating. 
Then it was facial time, my first ever.  All my worries were wiped away after I found myself between the warmed sheets on the clinician's table. Just climbing into a warm bed was a highlight on a day when the high was 10 degrees.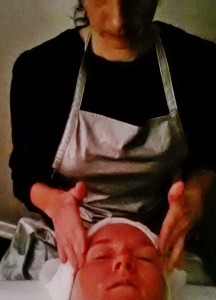 The relaxing music and mood lighting prompted quick and ultimate relaxation as the esthetician pampered my face, neck, shoulders, scalp and lower legs with a massage using lotions and potions that made me feel…well…REVIV-ed.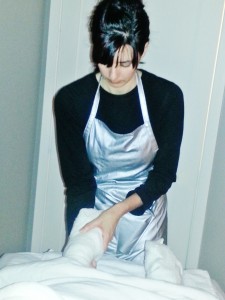 My favorite part must have been having my feet wrapped in hot damp towels.
After the facial, it was Botox time.
I won't lie.  I was super nervous.  After filling out the medical history and reading about the possible side effects, I was even more scared.  There were some pretty sick side effects listed on the sheet.
The clinician, Kelly, a Nurse Practitioner, reassured me by explaining the product and risks a little more.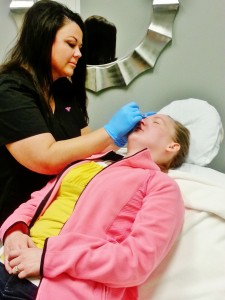 After her consultation, I felt reassured and ready.
She gave me four of the tiniest pokes ever and injected 25 units of Botox.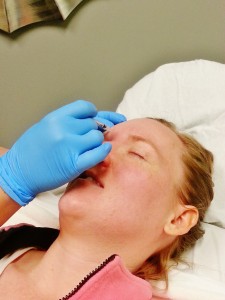 The procedure, if you can call it that, lasted about 30 seconds. It really didn't hurt at all.
I don't have a great "after" photo, because it takes the Botox between 7-14 days to become fully effective.
If you have wrinkles that worry you and you're in a place where you can SPLURGE on yourself a little, I wouldn't hesitate to recommend the Reviv Botox treatment.  You can count it as #314 on our Pleasant Event list.
AUTHORS NOTE: As instructed, I came in the spa with NO make-up on.  Please note as I post these pictures, this was very hard for me.  I like to wear make-up and I DON'T like showing myself with out it. As a part of my Scandinavian heritage, I was blessed with blonde eyelashes.  Without  mascara I look like I had an accident lighting my BBQ grill and it singed off all my lashes.  They're there I promise. Really!