I Love Jello.  There, I said it.  I know it's not cool to love Jello, but try and stop me.
Over the years, I've enjoyed crafting spectacular Jello.  I get really motivated for beautiful Jello around Thanksgiving.  Over the years I've tried many different formats.  Each year I try to out do what I've done the last year.
Here's some of my better works of art.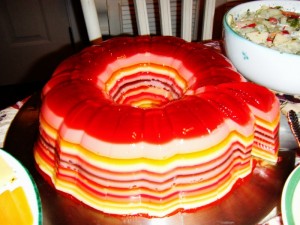 I'm always looking for new pans or better molds to create new and different styles.
Surprisingly, I have the hardest time finding pans that work well.
The key is finding a VERY thin pan.  Getting a Jello to release from it's mold is an art form all its own.
The best way I've found is submerging the pan in warm water for around 30 seconds.  BUT…if your pan is too thick, it won't release in 30 seconds. You have to add some time, but you only get one shot.  If you get it wrong, and leave it in the water too long, the Jello will melt and the hours you've put in on a layered Jello will be all for naught.
Nothing is more disappointing than ruining a Jello you've spent three days making.  It's a real time commitment.
Imagine my delight when I found myself at the Draper IKEA looking through the kitchen supplies.  I haven't been through Ikea in a while and I found so many useful things.  I'm just about to celebrate my 8th anniversary which means all the lovely gifts I got for my wedding are old and need to be replaced.
My best find, you might guess was this AMAZING jello pan!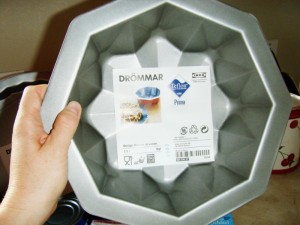 The Drommar pan has ALL the features I look for in a jello mold.  It's thin, it has a simple but beautiful pattern, and it was VERY inexpensive!  You might be surprised how much a bundt pan runs.  I just can't pay $30 for a pan I only use once or twice a year.
This Pan was less than $7.  Now we're talking.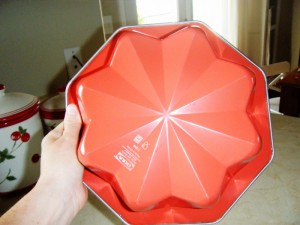 So for my test, I tried a new recipe, one I've been wanting to try for a while from Jamie Cooks It Up.  If you don't know Jamie's site, you should she's never done me wrong.  I'm totally counting this as number 55 on my list just FYI.
I wasn't sure if this is a recipe that would release, but I thought I'd try it and hope for the best.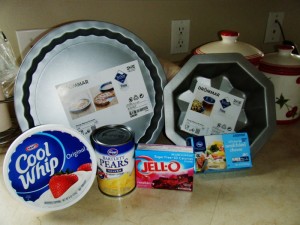 This recipe calls for these simple ingredients.  Also pictured here is another pan I bought at IKEA Draper for the same price.  Looking forward to scrumptious things to come out of this pan too.  I may even try a Jello in this pan sometime soon.  The bottom of this one comes out, so I know getting the Jello to release won't be a problem.
Anyway…we had fun putting this Jello together.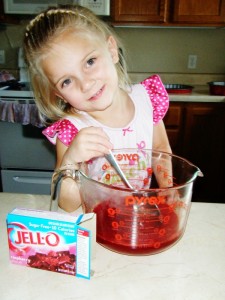 Sunny helped me stir in the Jello.  She's a good helper.
It came together so pretty.  I loved how it looked pouring it into the pan.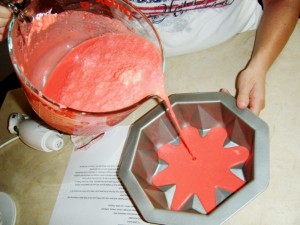 I kept my fingers crossed with that the finished product would turn out great!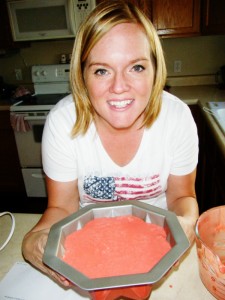 As it turned out…This is the BEST pan I have ever used for Jello and I'm not just saying that because IKEA Draper gave me this pan for free as part of a Blogger Special Event I attended recently.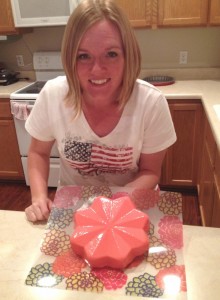 I have some pretty hefty experience dumping Jello out of their pans and this was the easiest one I have ever done! I know you're impressed too.
If you love the platter it's sitting on, it's also from IKEA.  It's actually just a cute plastic place mat.  I found these and switched from fabric to plastic place mats.  Saved myself a batch of laundry, plus they're SUPER cute and summery.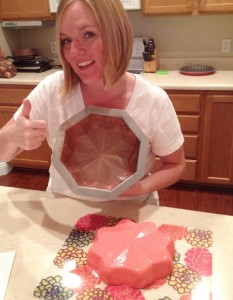 Thanks IKEA! I'm certain I WON'T be winning any contest when it comes to DIY projects, but I sure love your stuff!
Related posts: