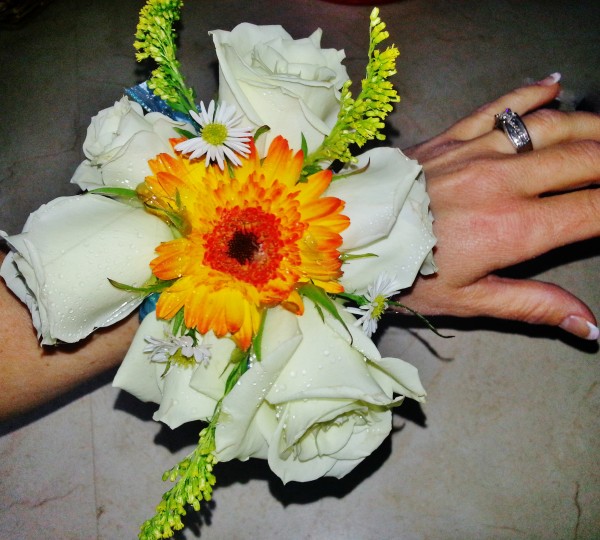 It's a week before Mother's Day, do you have a plan?  I do, mainly because I was lucky enough to be a guest at TWO really fun events this week.
First, I attended a blogger event at The Flower Patch flower shop.  They invited a handful of mothers and daughters into their shop to create beautiful Mother's Day corsages.
Don't you remember in the 80's and 90's how almost every mother wore a corsage on Mother's Day?  What happened?  When did this stop?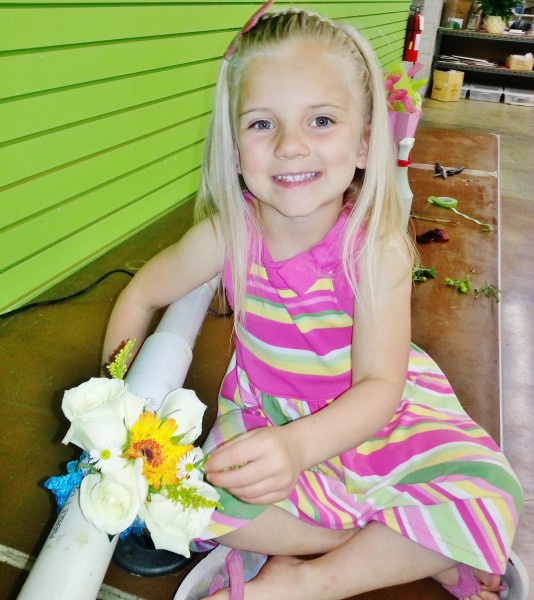 Sunny and Alyssa and I all made beautiful corsages at the event.  It was very fun, especially for cute five-year-old girls.  I especially loved this as I was able to check #8 off my list.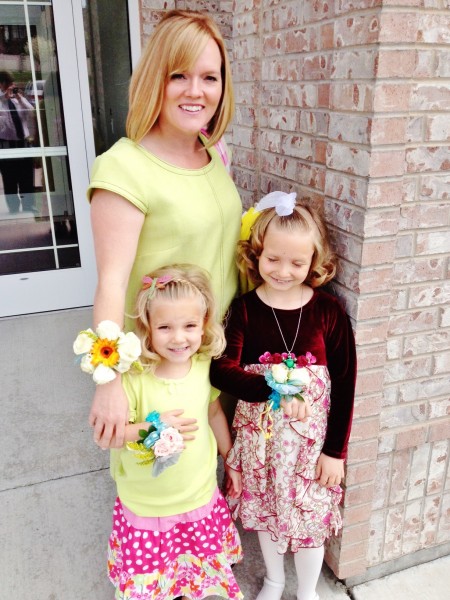 I wore the corsage I made to church as did my girls.  It was really fun and I think it's such a great tradition.  So…after attending this event I've decided that I'm going to work to bring sexy back to Mother's Day.  It's going to be Mother's Day corsages for everyone.  Okay, maybe not everyone, but at least me and my mom.  And maybe for you too.
The Flower Patch also gave me a gift card to share with a lucky blog reader.  It should be more than enough to buy at least one Mother's Day corsage or any other flower arrangement should you choose the less fun route.
Part two of my week of fun included attending an event sponsored by Massage Envy. It may have been my favorite EVER blog meeting.  It was certainly the most relaxing!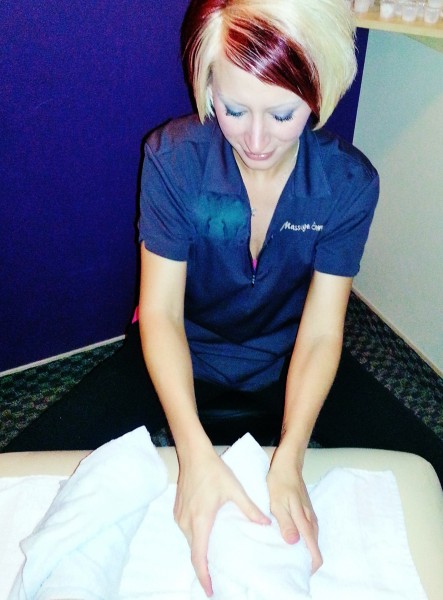 The event involved me trying several of the services offered by Massage Envy.  I had a sugar foot-scrub, a 15-minute chair massage and a 15-minute table massage.
By the time my services were over I was literally massage-intoxicated.  I stumbled through the hallway trying to think about where I was supposed to be.  I had several people ask me if I was okay.  I even had one person ask me for my car keys.  They could tell I was in no condition to drive.
I've had a handful of massages before, but this one for some reason left me SO relaxed. The back pain that I had experienced for several weeks before was eliminated.  It was the perfect way to end a hectic day.
Massage should be for everyone, not just the rich or famous.  If you've never had a massage before, you don't know what you're missing.  It's just worth every single penny. And it's worth feeling fairly awkward for a few minutes.  Nothing makes me feel as good as an incredible massage from a skilled therapist.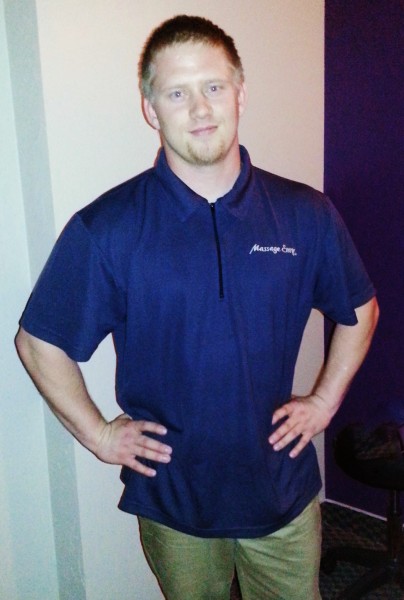 And as long as were talking about skilled therapists…check out this guy's shoulders.  He's a personal trainer AND a very skilled massage therapist!
Lucky for you, Massage Envy has given me a gift card to give away!  This could be your chance to finally get the relaxation you've been wanting.   Continue reading to see how to enter.
Enter by liking my Facebook page (if you haven't already).  Then like both the Flower Patch and Massage Envy Utah Facebook pages.
After you have done both of those things, leave me a comment about why you or a mother you know deserve either or both of these fabulous gifts. I usually use an app called Rafflecopter to randomly select winners.  This time I'll do it based on your comments. If I can't decide on my own, I may assemble a quasi advisory board to help me make the decision. I'll draw the winner Tuesday night.
Best of luck and I hope all you Mothers have a very special day, even if you have to make it special for yourself.  There's no shame in planning your own party.
Related posts: