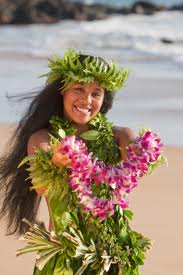 I mentioned in my last post that we recently returned from a trip to Maui, HI. You might guess that I had many opportunities for pleasant events while in Hawaii.  One of them was #3 from the list, Wear a Lei.  What better place to make this happen.
I remember watching the Brady Bunch as a child and seeing the family's Hawaiian vacation. It was one of my favorite episodes.  They received a lei from a beautiful native woman the moment they came down the staircase and stepped off of the plane.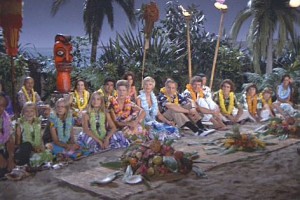 I received mine in the MOST Hawaiian way too.  I bought it alone at Costco.  What's more Hawaiian than that?
I mean really, what's more Hawaiian than fighting your way through a maze weaving in and out of people and ginormous shopping carts to find the pile of semi-fresh flower leis.  After pawing through the heap I settled on one that said "extremely fragrant" and was made of gardenias "That's the one I want," I thought to myself. I stood in the longest Costco line ever and purchased my singular lei for the bargain price of $10.
I chuckled as I thought about how I my experience, digging for one alone in a Costco (I left Steve with the kids in the parking lot), compared to the one the Brady's had.  It isn't really how I imagined it, but….
Back at the car I put my beautiful "extremely fragrant" lei on.  A few minutes later I noticed that I had a raging headache.
We drove around for a few minutes and the smell of the lei started to make me all but sick to my stomach.  It was in fact EXTREMELY FRAGRANT.  I started to wonder if this was what was causing my headache.  It started to feel really heavy on my neck at that point too, like I was wearing a lead chain.
I'd had it on all of about nine minutes when I looked at Steve and said, "I think this lei is making me sick.  I think I want to take it back."  Steve, being is extremely allergic to flowers, was more than happy to take the thing back.  He said, "leis are like wearing poison around your neck".
So we turned the car around and headed back to Costco.  I had an equivalently pleasant experience returning my lei.  As soon as the lei was out of my possession, the headache magically disappeared.
So it turns out #3, Wearing a Lei isn't so much of a pleasant event for me. But really, isn't this list all about trying new things and having a little variety in life?  Next time I'll just buy myself a box of chocolate covered macadamia nuts and call it good.
Another interesting vacation side bar about leis:
During a beach/snorkeling adventure, a guy came up as I headed out to the water and handed me a lei.  He asked if I would swim it out as a memorial for a friend of one of the other beach-goers that day.  I happily took the lei and swam it to sea.  It was a beautiful lei.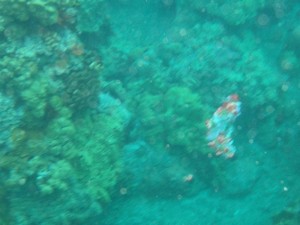 I even took a picture with my nifty underwater camera as the lei sank down into the water and femininely decorated the sea floor.
A few hours later after our snorkel adventure and long been over, a woman from Oregon approached me and thanked me for taking the lei.  She told me the lei was for her 37-year-old friend who had died of Breast Cancer.  She said this was what she needed to finish grieving and finally let go of her friend.
She asked me how old I was (33) and urged me to take care of myself, telling me to insist on having regular screenings even if my doctor tells me I am too young.   I thanked her for the advice and the opportunity to help memorialize her dear friend.
I thought I'd share her advice; let this remind us all how important it is to take care of ourselves even if it's scary, embarrassing or inconvenient.   Let's let that be the last memorial lei to decorate the sea floor in Maui.