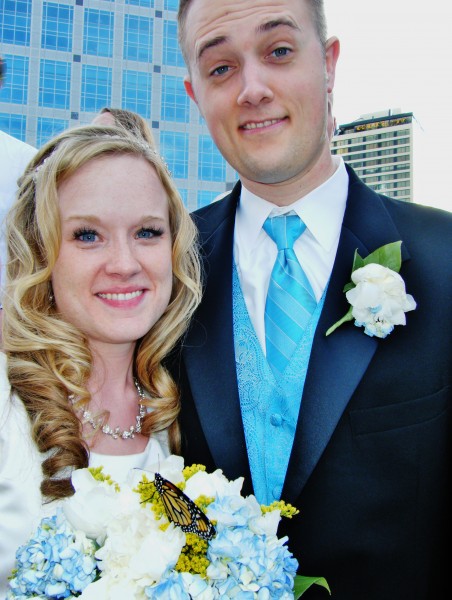 One of my last single girlfriends is about 5 seconds away from being engaged.  All the excitement has me thinking about weddings!
And…when I think about weddings I think about May 2009 when my friend Amy and I planned her wedding.  It was the most beautiful Butterfly Themed wedding anyone ever saw.  Since #91 on my list is related to attending a wedding I thought I'd reminisce and share some photos from her wedding, including the most unique center piece I've ever seen.  It was the creative high-point of my life.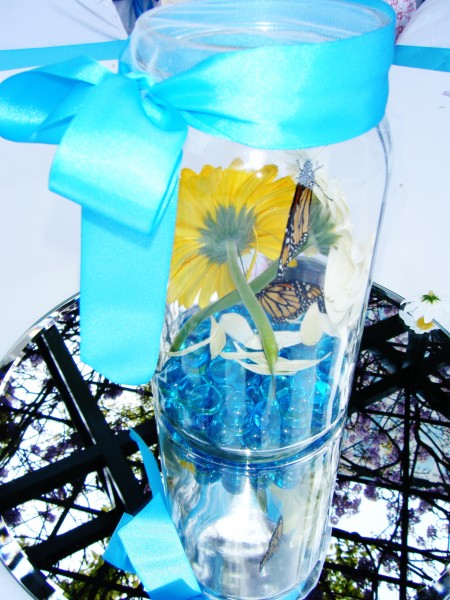 Amy has always loved butterflies and wanted her wedding centered around them.  I thought up what I believed would be an amazing center piece for each table.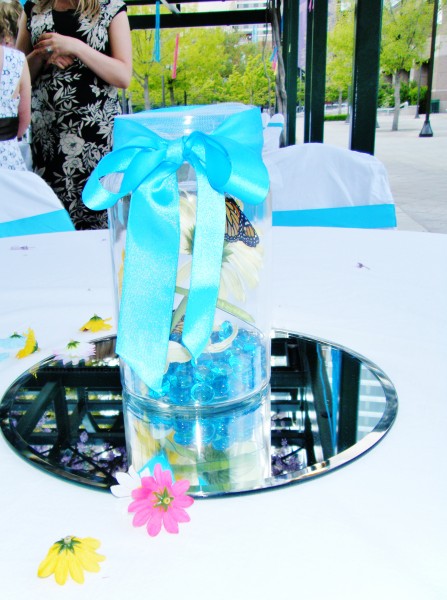 It involved butterflies, jars, ribbon, and Gerber daisies.
See for yourself, these jars were amazing.  They weren't easy, and they weren't cheap, but they were very beautiful.
When we first decided on this idea we searched the internet for live butterflies and found that they cost around $100 for a dozen.  Amy wanted as many as she could get so we decided to buy butterfly larvae and attempt to grow our own.  We thought it would be cheaper.  We were wrong.  By the time we assembled all our supplies we spent nearly $300 (or more). A week before the wedding it was clear that we WEREN'T going to get ANY butterflies in time for the wedding.
So…Plan B. We had two dozen rushed and they arrived the day before the wedding on ice and in individual envelopes.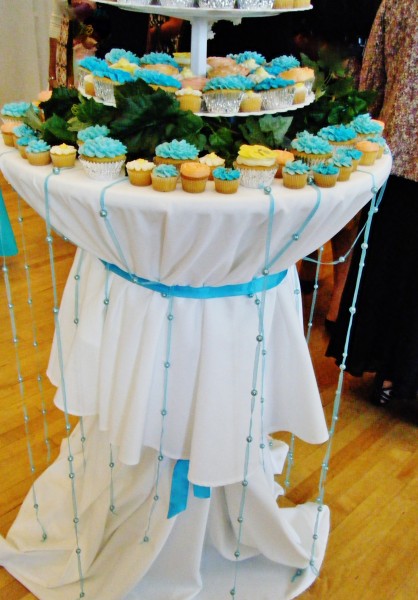 They were perfect and were easy to work with.  Because they were shipped in a cold packed container, they were temporarily paralyzed. We had about 45 seconds to a minute to get them where we wanted, which in our case was inside a jar, before they warmed up and wanted to fly.
Everyone LOVED the center pieces and were memorized by them.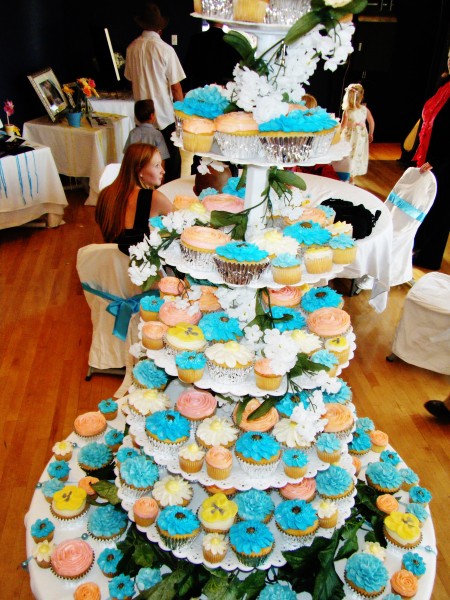 Here's a few other shots of my favorite things at her wedding.
She wanted cupcakes instead of a wedding cake, so we hired a cupcake maker who made dozens and dozens of custom flower-frosted cupcakes. It was a marvelous addition to the decor in the room.  The only problem was that the guests felt free to grab a cupcake at anytime, especially before the bride and groom "cut the cake."  We ended up assigning a cousin to watch the cake to keep people at bay until the bride and groom had the first taste.
The wedding venue was at Gallivan Center's downtown amphitheater stage and adjoining patio. It was ridiculously inexpensive to rent and also offered chairs and tables for an unbelievable bargain.  Amy wanted an outdoor wedding, but in May you can never count on nice weather for sure.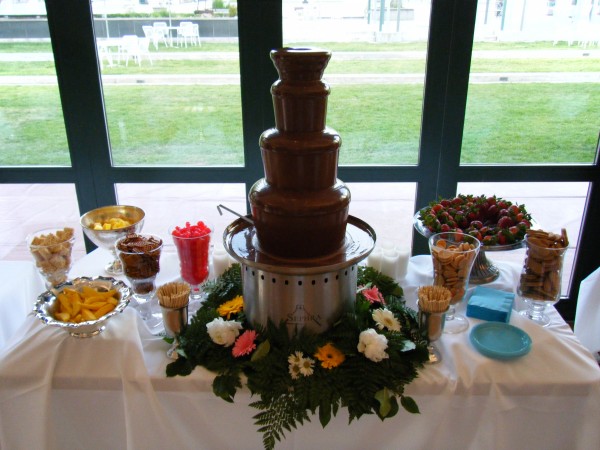 This venue gave us both an indoor and out door space which ended up being perfect.  Guests stayed a long time and lingered outside and inside since there was lots to see and do.
The other high note was the beauty of the chocolate fountain.  I was counting on the fountain to be delicious, but I never thought about the elegance it would add to the room.   Also, it was delicious and I'm sure I ate my weight in chocolate that night.
The real highlight of the wedding was near the end when the bride threw her bouquet and the guests released the butterflies in the centerpieces.
The butterflies were in no hurry. They seemed especially happy to meet the bride.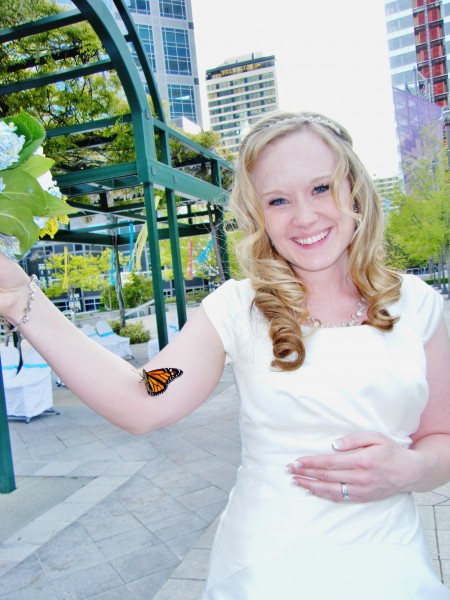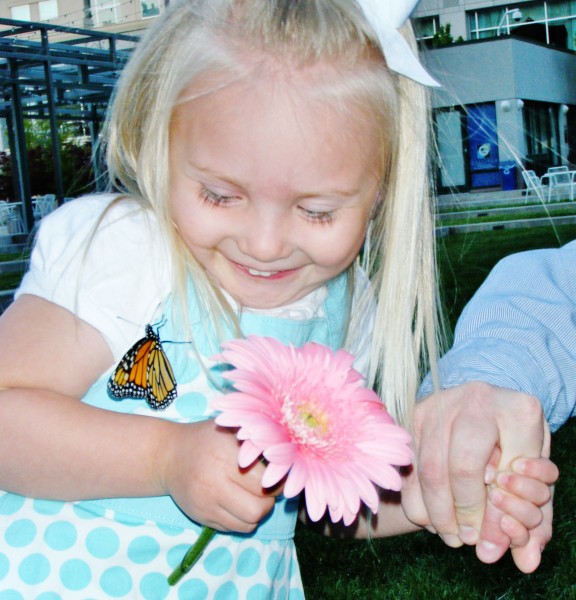 They also landed on the noses an clothes of delighted children.  You can only imagine the squeals and screams of the kids holding a butterfly for the first time in their lives. It wasn't just the girls who liked it either.  The boys loved it too.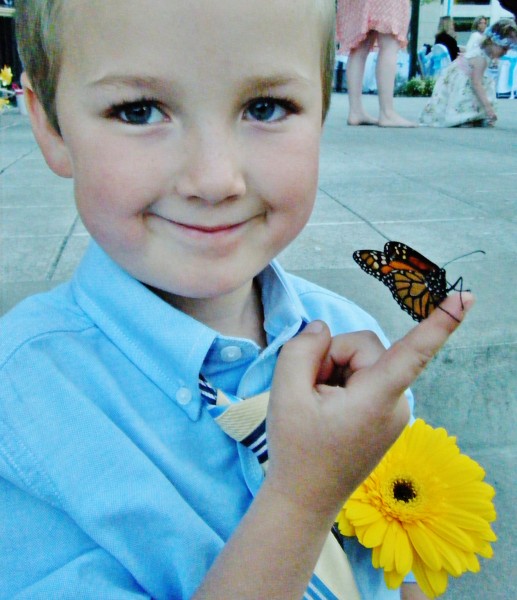 They turned out to be great little butterfly keepers.
We had ceramic pots holding butterfly nets and the kids ran around the patio and grassy area until it was dark catching butterflies and letting them go.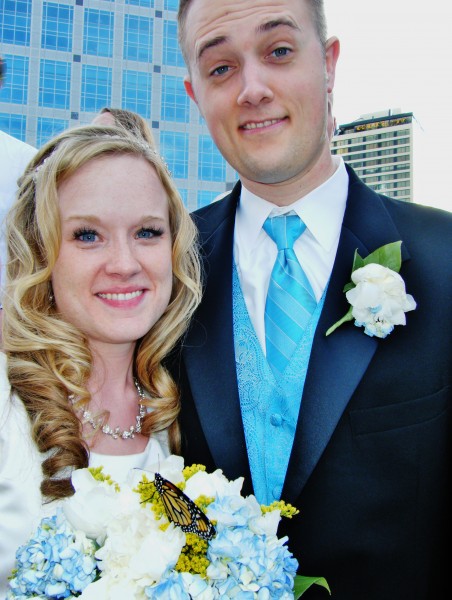 The butterflies especially loved the bride's bouquet which was so thrilling to Amy and her photographer. I don't know if I'll ever attend another wedding as well-suited to the bride's wishes as this one. Glad the list gave me the opportunity to remember this fun event.
It was such a magical night.  Well worth the money we spent on butterflies to have them shipped.  If only we hadn't wasted the money trying to grow them on our own…oh well.  Live and learn.
P.S. If you liked this post, feel free to pin it.